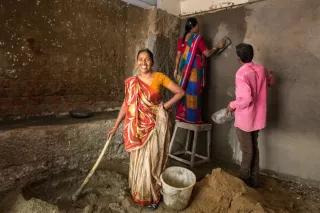 Why communities want to co-produce with the state? The experience of communities in the global south is that it is important not to pass over responsibility to the state, because if citizen's involvement is reduced it is unlikely that the services will be maintained. Diana Mitlin explores a radical concept of participation.
Urban realities are contested and urban politics is similar. Considerable effort has been made into ensuring that cities are democratic. The failure of government has inspired new efforts including those towards participatory governance. Those involved in radical coproduction believe that social justice, redistribution and effective government will only be achieved if low-income and otherwise disadvantaged citizens embed themselves in the day to day realities of development, working hand in hand with government agencies to ensure that their work addresses their needs and interests.
This day to day work is strategic, providing the base organizations that can build democracy from below, providing the agential conditions needed to hold the state to account and minimise the potential for elite capture.
My article will argue that coproduction is an essential component of an inclusive urban agenda. It is essential for three reasons:
•    Contesting negative identities related to lack of income and poverty
•    Ensure service delivery addresses the needs of the most deprived groups that are not benefiting from services
•    Building neighbourhood organizations able to represented the interests of disadvantaged groups
Joshi and Moore (2004) define Institutionalized co-production as "the provision of public services (broadly defined, to include regulation) through regular, long-term relationships between state agencies and organised groups of citizens, where both make substantial resource contributions" (page 40)  This contribution draws on Mitlin (2008) and Watson (2014) with a focus on citizen-led coproduction in which organized groups of informal settlement residents take the lead in designing systems of co-produced services.  
A failure of government – the scale and nature of informal settlements
The SDGs are global recognition that the existing scale of neglect cannot continue. In 2015 an estimated 863 million lived in informal settlements without adequate shelter and associated services. Improving the living conditions in informal settlements continues to be a global challenge. These informal settlements are characterised by insecure tenure and a lack of access to basic services (specifically water and sanitation), as well as inadequate quality of housing and overcrowding.
According to the Joint Monitoring Program (JMP), for the "least developed countries", only 32 per cent of the urban population had water piped on premises in 2015 (Satterthwaite, 2016). Moreover, we know that this is a poor statistic because frequently no water flows through the pipes, exacerbating problems of poor water quality in addition to simply not providing the required services.
The sub-Saharan African statistic for improved access to sanitation barely changed between 1990 and 2015, rising just one per cent from 39 to 40 per cent (WHO and UNICEF 2015). More generally, the JMP reports that, by 2015, an estimated 47 per cent of the population in the "least developed countries" had access to improved sanitation (ibid.).
However, the definition used for "improved" means that these figures take no account of the density at which people are living and the associated challenges of faecal sludge management and other externalities associated with the dense urban neighbourhoods common in many towns and cities of the Global South (Satterthwaite Mitlin and Bartlett 2015). This global challenge is immense.
Governmental bodies fail to involve citizens
Low-income groups do not just face material deprivation and being denied access to basic services. They are also frequently denied access to the services they need because of their low social status. This has multiple impacts. For example, the residents of informal settlements frequently use alternative addresses when they apply for jobs because of the negative perception of employers and higher grade employees.
Many government agencies now recognise the value of participation and the significance of local ownership. However, their staff lack the tools and approaches needed to incorporate people in their planning and preparation. Formal invitations to consultation meetings are ineffective. In many cases, participation is tokenistic. In other cases, the staff are unwilling to recognise the importance of beneficiary involvement.
Pressure on project staff, such as the need to complete projects rapidly and/or with few additional costs, mean that local residents are excluded from decision-making. Whatever the reason, there are multiple examples of projects being poorly designed and executed.
For example, water points may be put in the wrong location be dangerous to children to reach if busy roads have to be crossed and/or captured by powerful groups who make money from the sale of water, insufficient attention may be given to problems of low-water pressure, water kiosks may not open at the times at which it is convenient for users, and the prices charged may be unaffordable.
Faced with this situation, organized communities have found that developing an approach to scaling up community service delivery in which neighbourhood associations design interventions and then co-produce these basic services with the government is an effective modality.
Why communities want to co-produce with the state
Two leading civil society networks with extensive membership within informal settlements in Africa and Asia, the Shack/Slum Dwellers International and the Asian Coaltion for Housing Rights, both have developed modalities of intervention that use citizen-led coproduction.
Shack/Slum Dwellers International is a network of women's led savings schemes based in informal settlements that are federated at the city and national scales. SDI is working in 33 countries, and in 15 countries national federations have formed. The network supports the savings schemes through community exchanges to share ideas and experiences and building solidarity.
Activities including the documentation of histories, conditions and capacities in informal settlements; local city and national loan funds; and precedent projects that work out the kinds of improvements needed and which exemplify these preferred investments to government agencies. The Asian Coalition for Housing Rights brings together diverse civil society groups working to improving living conditions across towns and cities in Asia.
It has supported women's led savings-based organizing particularly through its Asian Coalition for Community Action (ACCA) programme which has supported a range of activities and investments to improve living conditions in informal settlements. Targeted investments in housing have been designed to draw in local government through partnership projects.
Three approaches for successful participation of citizens
Analysis of the approach of community-led coproduction produces a number of insights (Boonyabancha and Mitlin 2012, Satterthwaite and Mitlin 2014). Three reasons emerge as being particularly important.
1. Contesting negative representations. It is commonplace to challenge negative representations based on gender, age or ethnic group. But it is rare that negative stereotypes of those living in informal settlement or those with low-incomes are challenged. Indeed low-income groups are regularly referred to as "poor" despite the ambiguous meanings associated with this word.
Accumulating their own resources and offering to contribute to solutions that address their needs is effective in challenge such negative views. Small individual savings contributions build to a significant "pot" over time and enable shack dwellers to be taken seriously at a time when value is associated with finance.
2. Developing solutions that work. When community groups are given the space to develop their own solutions, they can test and refine physical designs and social processes that address their needs. Such product development inevitably is low-cost; the residents of informal settlements cannot afford to waste resources.
Alongside the physical construction they need to design the management and upkeep of facilities. Coproducing these services with the state enables them to scale up their work. The experience of communities is that it is important not to pass over responsibility to the state, construction quality will fall and as local ownership is reduced it is unlikely that the services will be maintained.
3. Pro-poor politics will always be work in progress. For decades, those committed to social justice and improved redistribution have sought to ensure that governments are elected that are favourable to this perspective, and that laws and entitlements provide a framework for addressing tricky issues of protection for the most vulnerable and universal access to basic services.
For many of those living in informal settlements, such approaches have failed to deliver. Federations of informal settlement residents now seek to complement parliamentary democracy with horizontally-linked citizen organizations that facilitate their participation. Those affiliated to the networks of SDI and ACHR support accountable and representative neighbourhood organizations.
They work together at the city and national scale to ensure that the needs and interests of informal settlement dwellers and other low-income residents are taken into account. For these networks, coproduction supports a radical politics providing a powerful identity for capacitated local groups led by grounded community activists and with a network of local accountability rooted in service delivery that improves the lives of members.
Sources:
Boonyabancha, S. und D. Mitlin (2012). "Urban poverty reduction: learning by doing in Asia." Environment and Urbanization 24(2): 403-422.
Joshi, A. und M. Moore (2004). "Institutional co-production: Unorthodox public service delivery in challenging environments " The Journal of Developing Studies 40(4): 31-49.
Mitlin, D. (2008). "With and beyond the state: coproduction as a route to political influence, power and transformation for grassroot organizations." Environment and Urbanization 20(2): 339-360.
Satterthwaite, D. und D. Mitlin (2014). Reducing Urban Poverty in the Global South. London und New York, Routledge.
Watson, V. (2014). "Co-production and collaboration in planning – The difference." Planning Theory and Practice 15(1): 62-76.