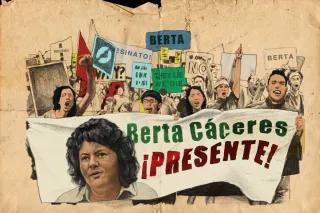 The not-for-profit organisation Global Witness puts environmental and human rights abuses, driven by the exploitation of natural resources and corruption in the limelight. In 2014, they revealed in their report "Deadly Environment", that the killings of people protecting the environment and rights to land sharply increased between 2002 and 2013 as competition for natural resources intensifies. Their latest report "On Dangerous Ground" documents 185 known deaths of environmental activists worldwide in 2015 - the highest annual death toll on record. Claudia Rolf spoke to one of the authors of the report, Billy Kyte.
Claudia Rolf: Your reports shed light on land and environmental defenders who were killed. Gathering valid information in a "deadly environment" is not an easy task. How do you gather evidence and what are the main challenges by doing so?
Billy Kyte: The data gathering for our annual reports on the killings of land and environmental defenders is mostly desk-based. We scour public sources, such as United Nation reports, NGO briefings and media articles, for cases that meet our criteria for inclusion in our database. The methodology for inclusion is based on an established human rights violations reporting format (see Huridocs). Where possible, we then verify our cases with in-country partners who monitor the killings of activists. They often provide us with first-hand information that complements our research. The biggest challenge we have is in ensuring we have the necessary information to include cases. It can be difficult to ascertain the suspected motive behind an activist's death. Sometimes, like in the case of the recent protests against large-scale development in Ethiopia, it is extremely challenging even to get hold of the names of victims.
As well as the annual reports we also investigate the causes of killings in certain priority countries, such as Honduras. This work is mainly field-based and involves travel to 'deadly environments'. Security risks both for ourselves and our sources need to be taken extremely seriously because many of the suspected perpetrators are state or corporate actors who wield enormous power in these contexts.
Environmental activists are under pressure. What roles do state and non-state actors – for example companies and armed non-state actors – play? Can you recognize underlying strategies, patterns and dynamics?
Few perpetrators of killings of defenders are ever brought to justice due to the failures of governments to properly investigate or prosecute anyone for these crimes. Many authorities either turn a blind eye or actively impede investigations into these killings due to the collusion between corporate and state interests – the principal suspects in these murders. This entrenched culture of impunity makes it easier for further killings to take place as those responsible know they are unlikely to be held to account.
An example is the brazen attack on environmental defender Rigoberto Lima Choc in Guatemala who was shot dead on the steps of a local court building after denouncing pollution of a nearby river. This lack of accountability makes reporting on perpetrators challenging. Often there is no detailed information on those responsible for the killings or public reporting on police investigations.
Even in the rare cases where the murderers were arrested, there was little sign that those who ordered the killings had been investigated, suggesting powerful interests at play. However, in 2015, we found partial information on suspected perpetrators in 97 cases. The information strongly suggests state and company involvement in the killings of land and environmental defenders. Paramilitary groups were suspected to have carried out 16 extrajudicial killings in Colombia and the Philippines, where they are alleged to operate with the backing of the army and business interests. The army itself was implicated in 13 killings, also mainly in Colombia and the Philippines, where internal armed conflicts are used as a pretext for land-grabbing by business interests with military support. Further suspected killings by the army were reported in Myanmar and Indonesia.
Your report starkly illustrates the need to put protecting land and environmental defenders at the heart of sustainable development. Why is this so important?
Land and environmental defenders are vital for sustainable development. Across the world, governments, companies and financiers are driving agendas that prioritise mining, agribusiness, logging and hydro dam projects. Falling commodity prices are giving perverse incentives to intensify resource extraction, whilst paying scant regard to environmental and human rights concerns in the process. These industries are increasingly exploiting land belonging to indigenous peoples – those best placed to preserve resources through their traditional practices – but they have been the worst affected with almost 40 percent of those killed in 2015. Stronger measures to protect land and environmental defenders are urgently needed. Governments must increase protection for those under threat and fully investigate those responsible. But it is also crucial to address the underlying issues that drive the violence. This means prioritising recognition of communal land rights as well as tackling corruption and illegalities in resource exploitation. Similarly, projects causing conflict must be urgently reviewed and activists' rights to speak out supported. Without these measures those on the frontline in the battle to save the environment will continue to be killed in record numbers – and any hope we have for future generations will also be killed.
What role can civil society play in order to contribute to the protection of environmental activist?
Civil society organisations can play an important part in changing government and business practice to ensure the protection of environmental activists. Firstly, by reporting on cases of attacks against activists and advocating for their protection and for those responsible to be investigated and held responsible. Secondly, by pushing for remedy by governments who need to provide compensation and to review controversial projects. Thirdly, CSOs should support defenders' rights to speak out against projects imposed on their land and lastly, we need to expose the underlying causes of violence against defenders, including prioritising formal recognition of land rights as well as tackling corruption and illegalities in resource exploitation.
Thank you very much!
Mehr about:
About the person:
Billy Kyte runs Global Witness' campaign to stop the killings of land and environmental defenders - activists protecting their land, forests and waterways against the expansion of large-scale agriculture, dams, mining, logging and other threats. Before he joined Global Witness in 2009, he has lived for a substantial time in Latin America, working as a journalist and for the human rights organisation Peace Brigades International. He has also lived and worked in Myanmar focusing on natural resource governance issues. Billy has authored a number of reports on human rights abuses and attacks against activists in Latin America.
 
This article is part of our dossier "Squeezed – Spaces for Civil Society".