The public discourse in Indonesia has turned against LGBT people. This is also due to positive developments in other ASEAN countries as it puts the issue on the political agenda and in the public debate. People now perceive LGBTI as new intrusion and are not able not differentiate between different groups within the term LGBT although some of them, as the waria community, have been a part of Indonesian society for a long time already. However, behind closed doors, the Indonesian government still supports projects for LGBTI groups.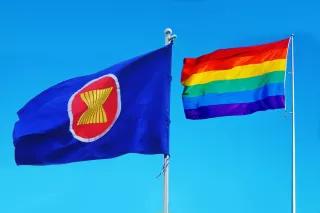 This article is part of our dossier 50 years of ASEAN – Still waiting for social and ecological justice.
In recent years, lesbian, gay, bisexual, and transgender (henceforth LGBT) issues have become a source of great divisiveness among nations. Although a number of Western countries, such as the Netherlands, Canada, and Spain, to name a few, have recognized same-sex marriage, several other countries have taken additional legal steps to acknowledge the non-binary gender category that is often dubbed as the "third gender."
In addition, there have been a series of actions to recognize, establish, and mainstream human rights standards to protect LGBT people. In 2006, a meeting on international human rights in Yogyakarta, Indonesia, resulted in the creation of the Yogyakarta Principles, which became a major legal instrument for LGBT movements.
A similar historical move was then also followed by The United Nations in mandating the appointment of an independent expert on sexual orientation and gender identity.
These developments have further helped to spread the globalization of discourse on LGBT rights into many parts of the world, including the Southeast Asia region. Two years ago, Vietnam finally lifted its ban on same-sex marriage, allowing many same-sex couples to plan for wedding ceremonies.[1]
In 2016, the LGBT anti-discrimination bill finally reached the Philippines' Senate plenary for the very first time in 17 years[2] This historic victory has given hope to the LGBT community that the law will eventually be passed and help in combating LGBT discrimination, in light of the high transgender murder rate in the country.
Similarly, in Bangkok, where transgender individuals are highly visible, PC Air – a Thai airline – has been recruiting transgender flight attendants since 2012.[3] Despite progress, some reports reveal that stigma, discrimination, and bullying against LGBT individuals in those countries remain rampant.[4]
In 2015, the US Supreme Court ruling on marriage equality and emphasis on marriage rights also seemingly increased the LGBT rights discourse at the international level. This has unfortunately become a basis for apprehension and conservative backlash in many parts of the world.[5]
LGBT activism in Indonesia, for example, has increasingly become associated with efforts to legalize same-sex marriage, which has also led the government to announce publicly that there is no place for LGBT movements in the country.
Equally frightening, the increasing visibility of LGBT issues also prompted Brunei Darussalam to adopt sharia law, which views homosexual practices as acts punishable by death by stoning. Section 377A of the British legacy Penal Code that outlaws "unnatural sex acts" in neoliberal Singapore also remains in effect.
Having considered different responses toward LGBT issues in Southeast Asian countries, I have selected a predominantly Muslim country, Indonesia, as a departure point to explore how the internationalization of the LGBT rights discourse generates national homophobia, which subsequently reveals its complexities and incongruities.
You can download the complete article as pdf.
---