In 1967 the Association of Southeast Asian Nations (ASEAN) was founded. This dossier sheds light on the institutional framework of ASEAN and analyses with contributions by civil society and academia, where social and ecological justice has, or should have, its place in Southeast Asia. ➢ This is the introduction to our online dossier "50 years of ASEAN - Still waiting for social and ecological justice"!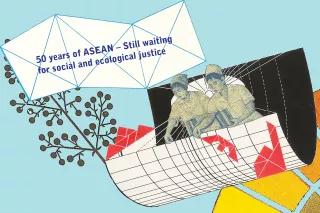 The Association of Southeast Asian Nations (ASEAN) today finds itself in a completely different global context than in 1967, its founding year. Together with geopolitical circumstances, the association has changed, too. In the beginning, ASEAN came together to balance out political conflicts between Malaysia, the Philippines and Indonesia that existed as one consequences of the state-building process and decolonialization.
In the following years, ASEAN was especially concerned about growing communist influence in the region. Therefore, the first ASEAN summit in 1976 constituted the formal basis for building a regional association of states that saw itself primarily as an anti-communist block. Times changed, old enemies became new partners and in the second half of the 1990s, Vietnam, Laos, Myanmar and Cambodia joined ASEAN.
However, politically sensitive questions remain, especially when touching upon relations with large neighboring countries. As every country has at least one taboo to safeguard, the member states agreed to the principle of non-interference and in 2007 signed the ASEAN charter, which includes this principle. This attempt to keep neutrality above all aims to protect economic cooperation.
In 2015, the ASEAN Economic Community (AEC) came to life. During its implementation, it has been facing a number of difficulties. However, the establishment of the AEC shows the importance with which the economic interests of the Southeast Asian nations are being treated. This single market aims to eradicate borders in the economic sphere.
Social and ecological challenges
But which role does social and ecological justice play? How does ASEAN react to the current geopolitical situation, in which the climate crisis poses the biggest threat and must be tackled through joint efforts? Countries such as the Philippines and Vietnam are highly vulnerable to climate change and feel the consequences already today. Is ASEAN able to react to the social and ecological challenges by taking the interest of its people into account?
This dossier analyzes the institutions of ASEAN - their history, dynamics and policies - with perspectives from authors in academia and civil society who contribute their experience and knowledge.
Truong-Minh Vu describes the context of global power politics in which ASEAN has had to situate itself. Between the interest of their direct neighbor China and the former Western protective power the United States, member states are seeking ties in different directions.
Consequently, ASEAN faces a foreign policy dilemma, which should trigger a revision of the principle of consensus and lead to the acceptance of different opinions instead of paralyzing the community.
Farish A. Noor describes what ASEAN is – besides being an institution - for the people on the ground and to what degree a common identity is organic or merely constructed. Aside from the diversity in Southeast Asia, he sees connecting characteristics that are not only rooted in the young generation in urban centers that are well connected by smartphones and planes, but go back to hundreds of years of common history that have generated major impulses from the peripheries of the nation-states.
No connection of civil society movements on an ASEAN level
One common characteristic of the member states today is state repression as Khoo Ying Hooi points out, using the example of the Malaysian Bersih movement. Despite meaningful movements on the national level, such as Bersih, that create strong political reactions, civil society has not managed to connect well-enough on an ASEAN level in order to influence ASEAN decision-making, argues Eduardo C. Tadem.
The focus on purely national cooperation of civil society organizations should be left behind in order to achieve a genuine regional integration and effectively fight shrinking civic spaces and the neoliberal mindset of "profit before people".
There are numerous groups across borders that feel the consequences of shrinking spaces. Hendri Yulius raises the situation of the LGBTI community and shows how positive developments in the region, such as in Vietnam, stand in contrast to negative examples as repression and oppression in Indonesia. However, this issue is not one of moralizing the sexual behaviour of individuals by states; it is a national response to a global process in which ASEAN could act as a deescalating platform for debate, but it does not take up this role.
One more social group for whom ASEAN´s promise to be "people-centred" is far from any reality is forced migrants. Due to flows within, and also influx from the outside, people are forced, to flee their home for different reasons, as political persecution or economic situation and seek new lives elsewhere in Southeast Asia.
Andika Ab. Wahab describes in his article, how Southeast Asia can learn from its own history about how to accept forced migrants and offer them an opportunity to take their futures into their own hands and shape lives of dignity.
Following a phase of industrialization of agriculture in Southeast Asia, the issue of food security is is being raised in different parts of the population. This not only refers to a sufficient food supply for everyone but also clean and safe food. Judith Bopp sheds light on initiatives and policies already existing in different countries to help establish organic food production.
Renewable energies in Southeast Asia
The question of energy supply is also a question that connects social and health concerns with climate politics in the process of regional integration. Khuong Minh Phuong analyzes the development of renewable energies in Southeast Asia and points out that potential solar, wind, and biomass sources offer alternatives to coal. Renewables can improve air quality, decentralize the energy supply, and reduce CO2 emissions.
It is, above all, socially marginalized groups who feel the ecological consequences of unregulated economic growth and profit-orientation. The podcasts related to this dossier show, how large-scale agriculture and industry development projects destroy the environment, and therefore the livelihoods of people.
One example of this is the long-lasting fires in the region, known as Haze. These fires release huge amounts of CO2 into the atmosphere and harm the health of the affected people. Developments such as this are generated from an ideology of growth and consumption that cannot be hidden by dropping the term "sustainable" as is often done in ASEAN institutions.
This dossier only consists of spotlights on debates that are much broader than what can be shown here. We hope that the articles serve as impulses to develop a deeper understanding of, and interest in, the diverse and politically important region that is Southeast Asia, also beyond the celebration of 50 years of ASEAN – as we are still waiting for social and ecological justice.