Atlas
Three trends will shape the evolution of Germany's most important industrial sector: electrification, digitization and networking within a new mobility system. Policymakers, manufacturers and customers are beginning to understand this.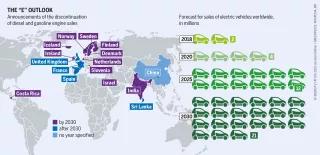 In 1886, Germany was the birthplace of the automobile, an invention that triggered a revolution in mobility. Today, the automotive sector is a key industry in Germany. With 834,000 employees, it generated 425 billion euros in total sales in 2018. At the same time, the negative consequences of mass motorization on the environment and health are obvious. Stricter regulations prompted by climate change and air pollution are intended to spur manufacturers to build cars that emit fewer pollutants and greenhouse gases. The German government has committed itself to reducing transportation emissions by at least 40 percent relative to 1990 values by 2030.
The transition to zero-emission cars is not only necessary from a climate perspective; it is also an economic imperative. Numerous countries are setting increasingly stringent emissions standards for cars, introducing electric quotas, or aiming to ban the sale of internal combustion engines on their markets. Ten countries will no longer permit the registration of new cars with internal combustion engines as of 2030. Manufacturers such as Volvo and Toyota were among the first to announce that they would be phasing out the internal combustion engine. The German manufacturers VW and Daimler followed.
Meanwhile, the demand for electric cars is growing: In China, registration figures have quadrupled in the past two years. The government in Beijing has imposed a quota for zero-emission cars on manufacturers.The second major change is digitization. With the help of artificial intelligence (AI), the car is evolving from a human-driven to a self-driving vehicle. How many autonomous cars will eventually drive on German roads – and when – is still a matter of controversy. According to some experts, "robocabs" – either as taxis or in car-sharing fleets – could cover more than a quarter of the global automotive market by 2030.
Others put that figure considerably lower.The third big change will be cultural in nature: For years, the automobile was a status symbol and an independent, private means of transportation. That is currently changing as the car takes its place as one part of a networked and shared mobility system. Thanks to digital car sharing platforms and a new mobility culture, the car can become a mobile service provider and thus a building block of a new comprehensive mobility system that includes buses, trains and bicycles.
Competition on the world markets is becoming much tougher. If German car manufacturers do not rise to the challenges, they will lose market share. They are not well positioned in the field of electric vehicles. Of the 20 best-selling electric cars worldwide, not a single one is built in Germany. The German car industry also has some catching up to do in the field of autonomous driving. Google's autonomous cars are technically so advanced that a safety driver – a human who can intervene during test drives – only needs to act every 9,000 kilometers. In the autonomous cars from Mercedes, an intervention is necessary every 2.9 kilometers.
The industry is now coming to terms with these fundamental changes. The number of patents serves as an early measure for industrial innovations – and German companies are leading in those related to autonomous driving. Progress is also being made in electric mobility. VW has announced that it will phase out the internal combustion engine within the next two decades. Mercedes-Benz intends to offer at least one electric version in every model series by 2022.
Investments in the fields of the future are imperative for Germany to benefit from the transformation of the automobile and for the industry to remain successful, especially with regard to zero-emission mobility and AI. Manufacturers are increasingly directing their R&D spending toward automated driving and battery-powered electric vehicles that will sell well and are expected to meet climate policy requirements. In an initiative approved of by the European Commission, France and Germany want to establish battery cell production in Europe and are making billions available for this purpose. In Germany, decisions have already been made regarding the first battery factories.
It will be more necessary than ever to support workers affected by the transformation with qualification and training measures and to understand that such measures will be an ongoing part of working life in the future. The transformation in the automotive industry is vast, and a major driver is the Chinese market. Shaping the necessary changes will require concerted efforts by policymakers, industry, trade unions, the scientific community and civil society.
With just under 70,000 new registrations, electric vehicles have a share of two percent – and represent only 0.3 percent of Germany's total passenger car fleet in 2018.
The EU recommends one charging point for every ten electric vehicles. Charging rates and access (public, private, company premises) are also important factors.
Will the end of the road soon be reached for new cars with internal combustion engines? Market researchers predict a tenfold increase in electric cars in twelve years.