Atlas
People who combine different means of transportation in everyday life can organize their mobility with great efficiency. Ideally, all the building blocks of such a "multimodality" fit together.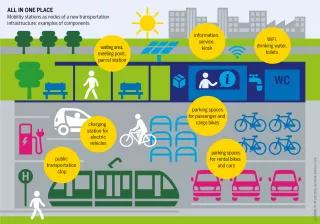 With regard to choosing a means of transportation, most people in Germany have so far been reluctant to experiment in their everyday lives. Apart from walking, 58 percent always use the same means of transportation, be it their own car, bicycle or public transportation. Such people are referred to as "monomodal mobility types".
In Germany, the majority of monomodals travel by car. 37 percent of the population regularly uses different means of transportation, and can thus be described as "multimodal mobility types". A multimodal user could, for example, cycle to work during the week, take a van from the car sharing station for a trip to a furniture store on Saturday, and catch a regional train into the countryside on Sunday to go hiking.
Each means of transportation has its advantages in everyday life, but none of them covers all needs. For example, we can reach even quite distant destinations very quickly by bus and train. Compared to a bicycle or car, however, public transportation permits less spontaneity due to its fixed timetables. Most people rarely need to move heavy loads. When they do, however, a large car is more practical than a tram or a city bike. But driving a car all year round for this reason makes little ecological or economical sense. Car sharing services and car rentals offer suitable vehicles when required. In a multimodal transportation system, the advantages of the individual means of transportation can be accessed and combined easily.
For people to embrace such a diverse mobility offering, they need to know as much as possible about what it encompasses and how to use it. And such offerings are only truly suitable for everyday use if the various means of transportation can be combined seamlessly. In Germany, many cities are now trying to establish multimodal transportation services. They are expanding the ecomobility network of bus, train, bicycle and pedestrian traffic, while also trying to provide better information about available offerings. This can be achieved, for example, with navigation apps that take various means of transportation into account when planning routes. Advice on mobility, or public transportation passes that also include free minutes for rental bikes, would also be helpful.
Mainzer Verkehrsgesellschaft (MVG) is an established operator of bus and tram services in the state capital of Rhineland Palatinate, Mainz. When a public bicycle rental system was to be set up there, MVG developed one itself. Today, there are bike rental stations all over the city. User information, the design of the bicycles, fares for buses and trains and rental fees for bicycles are all coordinated in the MVGmeinRad rental system. By now there are five rental bikes per 1,000 inhabitants in the city, making the citizens of Mainz some of the most enthusiastic bike renters in Germany.
The city of Munich is now setting up mobility stations at key public transportation stops and in residential areas. People who travel mainly with their own bikes or buses and trains can use a range of additional offerings at these stations: regular, electric and cargo rental bikes, as well as "quarter boxes" as delivery points for orders from local retailers. The stations also feature parking spaces for car-sharing vehicles, including charging stations for electric vehicles.
Helsinki has taken a major multimodal step forward. Since 2018, the Finnish capital has been offering Whim, a smartphone app that covers everything from rental bikes to taxis and the metro. All environmentally friendly means of transportation can thus be booked and used with ease. Payment is per trip or on a flat-rate basis. Furthermore, the Finnish government has required all transportation operators to make their traffic data freely available. Third parties are also permitted to sell tickets.
Ultimately, the question of monomodal or multimodal travel is not decisive for the environmental impact of transportation – what matters more is that the means of transportation used is energy-efficient and space-saving. If various means of transportation can be accessed and combined with ease, this strengthens bus, train, bicycle and foot traffic as a whole and makes it easier for travelers to give up their own cars. Thanks to digitization, the seamless networking of all options is within reach. But high-performance local transportation systems and safe bike lanes, areas for car-sharing vehicles and mobility stations must be put in place first. Action by cities and other local communities will be required here first and foremost.
Almost two thirds of Germans always use the same means of transportation in everyday life, while one third are "multimodal" types.
Many offerings can be combined at mobility stations. These can also serve as an alternative to previous car-only parking spaces.
Experts predict that the car will increasingly lose its role as a major status symbol.