Background
President Bolsonaro's irresponsible approach to the coronavirus crisis has led to conflicts, also within the government. Meanwhile, civil society organisations are distributing food in poorer districts.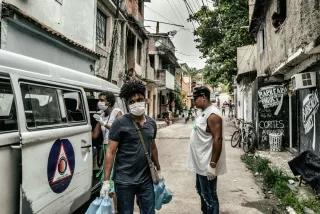 For the last two weeks now, the same scenarios have been playing out in the legendary Ipanema district of Rio de Janeiro at around 8:30 p.m. every evening: furious protests against the president, people beating saucepan lids and shouting "Bolsonaro out!" from windows, sometimes incredibly loudly. His supporters respond every now and then by playing the national anthem at full volume. The polarisation that has divided Brazil since the far-right president took office is now gaining momentum in the SARS-CoV-2 crisis.
The first cases of coronavirus
The first case of SARS-CoV-2 in Brazil came to light on 26 February, Ash Wednesday. It was followed by several more individual cases, almost all of them brought into the country from Italy, mostly by Brazilian tourists who had travelled there to escape the carnival or to join in the celebrations in Venice this time. The first person to die in Rio de Janeiro was a domestic employee of one of these travellers, on 23 March. Her employer had never even bothered to tell her that she had the virus and that there was a risk of infection.
As of 12 April, 22,169 coronavirus cases had been officially confirmed and 1,223 people had died of Covid-19. However, Brazil has only very limited testing capacities and therefore only the seriously ill are being tested – most results are not even available until between three and seven days after testing. Before Easter, there was a backlog of 21,000 tests waiting to be analysed. Especially in São Paulo, the epicentre of the pandemic in the country, people are still being buried with the vague cause of death "Suspected Covid-19". Even the Ministry of Health acknowledges that there is a considerable difference between confirmed and actual cases.
The majority of cases continue to centre around São Paulo (8,755), but the numbers are growing throughout the country. Other crisis hotspots are Rio de Janeiro (2,855) and the state of Ceará in the north-east (1,676), both of which are immensely popular tourist destinations, as well as the capital city Brasília (614) and the state of Amazonas (1,206). The first indigenous Brazilian victim, a 15-year-old Yanomami boy, died there a few days ago. There are concerns that the virus could be particularly dangerous for the indigenous population, who have little contact with the outside world. The virus is being brought into indigenous territories mainly by illegal gold prospectors and lumberjacks, but a young indigenous nurse who returned to her home area after her training, has also tested positive for coronavirus.
The public health system is being stretched to its limits 
Brazil has a public healthcare system, the SUS, which is accessible to all and actually works reasonably well. However, the SUS has been underequipped for years, with too few staff, too few drugs and too little equipment. This tendency started to increase sharply following the caps that were placed on social spending by the Liberal-Conservative Temer government in 2016. The prognosis in the event of a spike in coronavirus is therefore not good. In total, there are around 55,000 intensive care beds in Brazil, for a population of over 210 million. Intensive work is currently underway to expand these capacities. However, only around half actually belong to the public health system. The other half belong to the private healthcare sector, with which around a quarter of all Brazilians have insurance. By far the most available intensive care beds are in São Paulo, Brasilia and Rio de Janeiro.
Up to now, it has mainly been the more well-to-do sections of society who have been afflicted by SARS-CoV-2 and Covid-19 and it was possible to provide the necessary intensive medical care. But what will happen if the virus spreads to the massive slum areas is something nobody wants to contemplate. Many sports venues and football stadiums have been temporarily set up as hospitals to care for mild to moderately severe cases.
Amazonas will very soon become the first Brazilian state to see its medical care capacity stretched to its limits. Of the 69 intensive care beds available to the public health system, 63 were occupied by Good Friday.
Reactions to the crisis 
The responses to the crisis have been very different: most governors issued decrees on or around 15 March closing schools, universities and most businesses. All non-essential businesses have also been closed or, where possible, staff are now working from home. Supermarkets are currently still open, even small ones, as are pharmacies, drug stores and banks, but with reduced opening hours. Additionally, various chains, such as those selling household products, have successfully brought legal action against mandatory closures. Many governors and much of the press are consistently repeating the calls to stay at home with identifiable, but ultimately fairly moderate results. The aimed-for restrictions on public life in the order of 70% has been achieved nowhere – the favelas are the closest to this target, as local drug dealers' associations and militia are enforcing their own daily curfews. Telecommunications service-providers estimate that around 50% of users are staying at home – these businesses have teamed up to track the movements of citizens' mobile phones.
Under pressure from, among others, the Parliament, the government approved an immediate economic measure on 1 April to provide support of 600 reais per month (a good €100) per person for a maximum of three months for low-earners working in the informal sector and who have lost their income.
... and why they are not all working 
There are many reasons why half of the Brazilian population is failing to heed the order to stay at home: in Brazil's coastal cities in particular, life is lived outdoors, or at least it is under usual circumstances. Forbidding people from going outside is a massive blow, not least to the country's cultural mindset. Changing that mindset is therefore a challenge that should not be underestimated and the fact that most people live in very modest accommodation makes them all the more eager to escape for a little while. Even the homes of the middle classes are often very small and by no means set up to spend entire days there with the whole family.
In the slum areas of the cities in particular, many people will have nothing to eat after a day or two, if they cannot work. They have to go looking. More and more young bicycle couriers on rented bikes can be seen on the streets of the more well-to-do areas, delivering orders from restaurants to people's houses through ifood or UberEats. The number of cardboard boxes turned upside down as makeshift stands from which home-made face masks are sold is growing by the day. The number of people who live on the streets appears to have increased dramatically already. The outskirts of São Paulo and Rio have seen the first lootings of supermarkets, which have taken advantage of the crisis to ramp up their prices, almost everywhere in the country.
Economically, the crisis is going to hit Brazil hard whatever happens. The initial, cautious forecasts of the Getulio Vargas Foundation predict a decline in GDP of 3.5 – 7% and an increase in unemployment to 17.8 – 23.8%. Employees can expect a loss of earnings of up to 15%.
SARS-CoV-2 and civil society
The commitment of many social movements has been impressive. Some peasant farmers or landless people, for instance, in contrast to the supermarket chains driving prices upwards, very quickly adjusted their range of vegetable boxes in the city to a profitably larger clientele, but continue to operate fair prices. Also worthy of note are the numerous initiatives of civil society organisations, many of which are partners of the Foundation, that have collected thousands of packages of food, water and sanitary products in ad hoc donation campaigns and distributed them in the slum areas, where advice such as frequent hand-washing is often impossible to comply with because of inadequate water supply. The "reporters from below", who are organising alternative reporting from the slums, have gone into overdrive, succeeding in getting the particular challenges of SARS-CoV-2 in these areas over to the general public. However, the virus is only just beginning to spread in these areas. In Rio, there have so far only been around a dozen cases in the slums and one officially confirmed death. The inhabitants themselves are already talking of considerably higher numbers.
Bolsonaro's crisis management and its political consequences 
Over the course of the crisis, the President has openly come to blows with the Parliament – and slightly less openly with members of his own government and probably also with sections of the armed forces. Health Minister Mandetta, a Conservative anti-abortion campaigner and proponent of the sweeping privatisation of the healthcare sector, is currently steering the country in accordance with the recommendations of the WHO, giving the impression of professional competence and empathy. This very quickly won him a popularity rating of over 75%. This rating is more than twice as high as Bolsonaro's, who has made no secret of his irritation at this. In the last few days, he has indicated more than once that Mandetta is unstoppable, and recently even hoped to be able to force him to step down. Under pressure from the armed forces, the Parliament and even some of his own ministers, however, he lost that particular fight – Mandetta is still in office. Even the Supreme Court has shown Bolsonaro the red card in the meantime and made it clear that it would rule any announced presidential decree on easing lockdown measures unconstitutional and declare it null and void.
Bolsonaro's isolation
The effects of Bolsonaro's irresponsible approach to the crisis has also been reflected in surveys: since the crisis began, a third of the people who voted for him as the lesser evil have turned against him. In many respects, Bolsonaro has never been this isolated since he took up office. Whether this will be enough to depose him before the end of his term remains to be seen. And should his deputy, ex-General Hamilton Mourão, take over government affairs, it is also unclear what consequences this will have for the handling of the crisis, the political landscape and the country as a whole.
The article was first published in German. Translation by Alison Frankland.