Background
A fluctuating economy, high unemployment, enormous violence against women and girls – what was already a difficult situation in Mexico has been made far worse by the coronavirus pandemic. Dawid Danilo Bartelt, Head of the Mexico City Office, describes the country's approach to tackling coronavirus.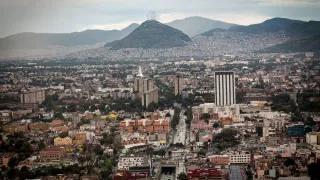 The whistle of the sweet potato vendor's steam whistle echoes eerily around the streets of the district, a piercing sound that is haunting at the best of times and which, once heard, is never forgotten. Now the whistle reverberates even more against the facades of buildings, as the streets are as empty as you would usually only find at 5 o'clock in the morning in the summer holidays. Most restaurants and shops are closed. Pedestrians are few and far between. Not many takers for those delicious camotes and plantains, served with sweetened condensed milk and cinnamon.
Social distancing rules and lockdown 
Many Mexicans were already staying at home even before the government declared "Phase Two" on 24 March, ordered people to keep a "safe distance" of at least one and a half metres from each other and prohibited gatherings of more than a hundred people, and before the state of emergency was declared on 30 March. Restaurants and most shops were closed. Anybody who did not absolutely need to go to work was advised by the government to stay at home. Lockdown was ordered only for people above the age of 60 and high-risk groups. In federal Mexico, the scope of the restrictions differs between states. This has prompted certain areas to take the law into their own hands. As early as the beginning of March, local authorities on the Yucatán Peninsula forced tourists out – they were given a few hours to leave their hotels and then the state itself. These vigilante restricted areas are growing in number.
Living from hand to mouth 
The federal government has no wish to order what it cannot order, pursuant either to its manifesto or the circumstances. First the poor: that is the motto and mantra of the political style of President Andres Manuel López Obrador, known as AMLO. Half of the Mexican population of 127 million lives in poverty. And most of the country's poor work in the informal economy. 56.2% of all working adults fell into this category at the end of 2019, according to official figures – 3% higher than the average for Latin America and the Caribbean as calculated by the International Labour Organisation (2018).
The informal sector means living from hand to mouth. Or in other words, if you don't work, you don't eat. More than half of all Mexicans – and Latin Americans generally – therefore simply cannot afford to stay at home. During the times of Covid-19, they have more to fear than just the virus. They have to work hard to make ends meet, just like the sweet potato vendor. To put it another way, their right to health and to protect their lives is under threat if they go out into the streets (particularly as many have no health insurance), but it is also under threat if they stay at home – a clash of human rights that characterises the social reality of coronavirus in many countries, particularly in the south of the planet, and which has joined the other characteristic clashes of human rights – protecting the general public by means of collective compulsory measures versus restricting individual freedoms and safeguards. 
Social programmes continue, redundancies are on the rise 
Massively reducing social inequality without impinging upon the – extremely liberal – economic order, without taxes and without increasing government debt, is central to AMLO's plan. His recipe for the coronavirus crisis is to continue the extensive social programmes in full. These are targeted mainly at pensioners and young people. On top of this, the government has earmarked €1 billion for loans to small and micro-businesses, with half of this sum for the informal economy. They get around €1000, to be paid back in three years.
Instead of tax deferrals, as large businesses are calling for, the government is prioritising the sector which employs the highest number of people with the least amount of support. Additionally, 2 million jobs are to be created in nine months. Promises like these are grist to the unremitting mills of AMLO's critics. They accuse him of having lost touch with reality, both as regards the threat itself and concerning appropriate counter-measures. When Europeans were already dying in their hundreds every day, AMLO was still shaking hands.
Virtually no protection for the unemployed
In the first year after he took up office in January 2019, 377,000 new permanent jobs were created, according to government figures. This is well below numbers for previous years. Furthermore, the minister for employment, Luisa María Alcalde, has just announced that 346,000 jobs have already been lost in the nascent recession, as large businesses in particular have already made mass redundancies. López Obrador had appealed to businesses not to do this. In the capital city, people who have been let go from direct formal permanent employment will get up to 2,641 pesos (currently around €100) for up to six months, and that is the maximum. The government now hopes to provide financial support of US$600 per month to everybody else on application, in other words the vast majority – people working under fixed-term contracts or as subcontractors, day labourers and other one-person enterprises.
Recession drives poverty figures upwards 
However, the government has no EU backing it. It has so far refused to borrow on the market. It has adopted a rigid course of austerity in public services and is investing a lot of money in the above-mentioned social programmes and in major projects, such as a new refinery and a railway line in southern Mexico. There are no current plans for financial injections for larger companies. Higher-earning civil servants have had their Christmas bonuses cancelled.
But that will probably not be enough. Mexico's economy, with growth levels of practically zero even before the coronavirus, is likely to go into recession. The UN Economic Commission for Latin America and the Caribbean, CEPAL, anticipates – somewhat cautiously – growth in negative figures of 3-4% for the entire region. The even worse news is that this will probably undo the successes of the last 20 years in the fight against extreme poverty.
What aid packages in the billions might be able to slow down in Europe will certainly send millions of the poorest people in Latin America back into destitution. The Mexican peso has fallen to a record low against the dollar and the euro. Mexico scored a small success recently in negotiations between the OPEC countries and other major oil-producing countries on reducing its production amounts. Mexico has reduced by just 100,000 barrels a day and the other 250,000 barrels produced are going to the USA.
Increased violence against women and girls 
Current closures and restrictions will remain in place until 30 April, but there is practically no doubt they will be extended. This increases the risk for women of encountering violence at home. This seems to have become established recently as a tragic global trend, but there are few countries in which women and girls run so high a risk of being murdered. It is like something from another age, but just a few weeks ago, Mexico City saw the biggest women's demonstration in its history, on 8 March.
On the next day, many women heeded the call to join in a one-day strike. During the previous few months, violence against women and girls had made headlines on a daily basis, alongside the absurdly high number of cases, many with a fatal outcome, and the growing and well-organised resistance. 632 women were murdered in the first two months of the year alone. SARS-CoV-2 swept the subject away within just a few days, but not the violence. Quite the reverse.   
The effects of 8 March
On 23 March, the government officially asked people to remain at home. By 26 March, the Director of the National Institute Women and three other experts were invited to attend the press conference held every evening by the Secretary of State in the health ministry, Hugo López-Gatell. They spelt it out clearly to the journalists present that women now had even more violence to fear. Their diagrams also showed how unequally housework and caring for children and the elderly is divided between the sexes in Mexico. They called for the appeals for citizens to remain at home to be accompanied by appeals for them to make changes to this inequitable division of labour.
Federal and state governments have since responded: throughout the country, there are information campaigns, special telephone helplines have been set up and the government has released grants to women's refuges which it had been planning on scrapping altogether. The courts, however, have also stopped work, meaning that restraining orders and other orders against violent partners cannot be enforced. The number of calls made by women to the emergency number 911 have in any event increased in recent weeks. One group of senators and MPs warned over Easter of a further spike in domestic violence, calling, amongst other things, for sales of alcohol to be banned.
Serious courses of the illness expected throughout the country 
The government's strategy to tackle Covid-19 is briefly this: we have to keep the infection curve flat, even if this means that the whole business takes longer. Many observers expect restrictions on public life to continue into the summer. This is because the Mexican health system is not prepared for infection figures at European levels.
There are currently just 1,553 intensive care beds available, compared to 28,000 in Germany before coronavirus. 2,053 ventilators, moreover, will not get the healthcare professionals very far, should attempts to stem the pandemic fail. The government is currently trying to source a further 10,000, plus their monitors, from the US. The numbers of infections and deaths have risen steadily since early May. And as is also the case in other countries, the number of unreported cases is a matter of much dispute. 
High numbers of unreported deaths and infections 
Just before Easter, López-Gatell admitted that his ministry assumed the confirmed number of infections should be multiplied by eight. Critics considered that it should be multiplied by 15 or 30. Officially, on 4 May – just 10 weeks after the first cases reported – 13,143 people were infected and 2,271 had died of coronavirus. The National Centre for Disease Prevention and Control predicts 260,000 infections, other estimates are based on 10-12% of the population – 13-15 million people. In the months of May and June in particular, the hospitals will be overwhelmed. The capital city will be the worst affected in the entire region. Since early May, around 70% of beds with ventilators in Mexico City have been occupied, while reported cases in some regions of the country are in single figures. The World Health Organisation warns that Covid-19 illnesses could take a comparatively serious course in Mexico. No other country on earth consumes more soft drinks or has such a high rate of diabetes, at around 10% of the population. Additionally, 90% (!) of all Mexicans are overweight. Diabetes and overweight dramatically increase the risk of a serious course of illness.
Furthermore, the newspaper Reforma reported another tragic but very illuminating Mexican statistic: since the beginning of lockdown on 25 March, 3,381 people in the country have been murdered (as of 3 May). 2,270 have died of coronavirus. In the small state of Guanajuato, with fewer than 6 million inhabitants, 438 people met a violent death over that period. Covid-19 was the official cause of death for just 33. 
Mexico, May: this is only just the very beginning.
The article was first published in German. Translation by Alison Frankland.