Background
"Shall we occupy the university?" "Yes!" cheered a roomful of applauding students from Hungary's University of Theatre and Film Arts (SZFE), surrounded by the sound of drums, over a week ago. They then proceeded to block the entrance with the red and white stripes that have since become the symbol of a resistance movement supporting the autonomy of the SZFE and standing up against a further attack by Viktor Orbán's conservative, nationalist Government on the freedom of art, culture and education in Hungary.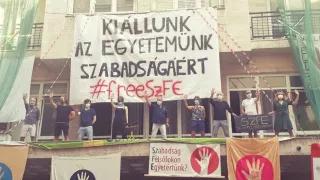 As of 1 September, the governance of the public university was transferred to a private foundation to which the Government appointed a board of loyal trustees led by the acclaimed Attila Vidnyánszky, an ideological friend of Orbán who is the director of the National Theatre and the Government-friendly Hungarian Theatre Society. The foundation's Board of Trustees was staffed on a solely ideological basis, without including even a single name recommended by the SZFE staff. Furthermore, Vidnyánszky introduced a new bylaw without consulting the latter, which led to the resignation of the entire elected leadership and Senate of the university.
Wide-scale support
Still, the recent waves of national and international protest surrounding the authoritarian restructuring of the 155-year-old university, which features several Oscar winners among its alumni, were unexpected in a country that has become used to its Government systematically dismantling the democratic system of checks and balances. Theatres such as the Berliner Ensemble have shown solidarity and cancelled their planned Media performance at the MITEM theatre festival in 2021, organised by Vidnyánszky at the National Theatre. A growing number of international authors and actors such as Salman Rushdie, Colm Toibín, Cate Blanchett and Helen Mirren have expressed their support, allowing SZFE's student government to post a photo on their Facebook page of Rushdie giving a stern look from his library, showing his hand with the university's acronym, SZFE, written on it.
Hungarian actors and directors presenting their films at the 77th Venice Film Festival, including Kornél Mundruczó ("Pieces of A Woman,") and Lili Horvát ("Preparations to Be Together for an Unknown Period of Time"), wore T-shirts featuring "FREE SZFE". Domestic support has also included a few street protests, the biggest one being held on 6 September with around 10 000 people wearing masks and gloves to create a human chain between SZFE and the Parliament and to pass a copy of the university's charter from hand to hand. The director of the renowned Örkény Theatre, Pál Mácsai, joyfully exclaimed in a video posted by 24.hu while he was waiting on the sunny bank of the Danube for the charter to arrive: "These thousands of people mean a lot to us. It means that we are not alone."
Support also involved more than 1 000 musicians in a single day signing a statement of indignation, as well as many artists, groups of intellectuals and some other universities, even though many seem fearful of openly expressing solidarity. Students of the ELTE University Faculty of Law in Budapest placed the symbolic red and white stripes and banners such as "FREE SZFE", "WE WON'T REMAIN SILENT", "WE'RE WITH YOU" on their university building early this Wednesday, only to find them removed by the janitor who had been instructed to do so.
Takeover without consultation
Students and teachers at the University of Theatre and Film Arts agree that it needs to be reformed. What they find unacceptable, as described in numerous Facebook posts, interviews and speeches, is the ideological pressure coming from Vidnyánszky, who wants to push the education in the theatre school towards what he calls "national and Christian" values. He also has been openly discrediting his acclaimed actor and director colleagues teaching at SZFE, implying that their previous work at the university has been worthless and that they have been unable to understand terms such as "fatherland" or "patriotism". The new governance system installed the foundation with its Board of Trustees directly beneath Vidnyánszky and above the elected Senate, with which the new foundation failed to communicate, rendering the elected representatives powerless, which is why they subsequently resigned. All of this then led to the current impossibility of cooperation and to the blockade of SZFE by its students. The beginning of the academic year has been postponed at the institution and currently it is unclear how education might continue there.
A controversial personality
Ukrainian-born Attila Vidnyánszky's rich career spans from his studies at the College of Film and Theatre Arts in Kyiv to his founding the Hungarian National Theatre in Berehove, becoming director of the Hungarian State Opera House in 2004, being appointed artistic director of the Csokonai Theatre in Debrecen in 2006, teaching at the acting department at the University of Kaposvár as a regular teacher, administrator and vice-administrator, and finally becoming the director of the National Theatre in Budapest in 2013. He is an internationally acclaimed director and a controversial personality.
His former student from the University of Kaposvár, Mariann Hermányi, explained in this week's "Partizán" online talk show that she was astonished at Vidnyánszky's public, political side, which is full of bitterness against SZFE teachers and students. Hermányi remembers Vidnyánszky as "a good person", being "like a father" to his students in Kaposvár, caring about their personal situations and needs. However, according to Hermányi and other interviewed students, Vidnyánszky was so busy juggling his multiple high positions that he often had to cancel his classes in Kaposvár, which now raises the question of how he thinks he could manage directing the Budapest theatre school on top of his various other responsibilities.
Another former student, Eliza Sodró, posted an open letter on Facebook in which she called him "Papa" and warned him that he should not continue to be led by his old hurts and frustrations from the beginning of his career in Hungary, but should enjoy what he has achieved since then and discover the students of SZFE, whom she describes as "intelligent and open-minded" and having "a well-developed debate culture and world view." Sodró notes that by publicly exposing herself in this affair she knew the Government media were likely to launch a witch-hunt against her and her family.
Enhancing Government influence in academia
Her attitude reveals a novelty in established Hungarian protest culture: The SZFE students did not grow up in a dictatorship, they are young enough to be passionately attached to their ideological freedom without fear of the repercussions and existential difficulties this fight may incur. Ever since 2010, only the student network called HAHA in 2013 has ever gone as far as occupying a university.
Political scientist Zoltán Gábor Szűcs notes that the Government's attempts at restructuring the academic system have been ongoing since FIDESZ and the Christian Democratic People's Party obtained a two-thirds majority at the elections in 2010. The goal has been to privatise state-owned universities and place government-friendly economic or political actors on top of them in order to ensure long-lasting influence. Potential ideological adversaries, such as Central European University (CEU), have been removed from the playing field, whereas the restriction of the academic liberties of scientific and educational fora such as the Hungarian Academy of Sciences is an ongoing process.
Apart from the privatisation, the SZFE has become a target for ideological reasons, representing a nest of "liberal" thinking, which is a four-letter word in the rhetoric of Orbán and his followers. Theatre expert and organiser of the alternative Contemporary Drama Festival Mária Mayer-Szilágyi is afraid that the Government's strategy is that of tiring out the protesters' energy and resources or fabricating a reason to close down the site. For the time being, the students of SZFE relentlessly continue their protest, chanting protest songs, holding forums, and letting only selected teachers and actors enter the building.