Portrait
Nomarussia Bonase devotes all her energy to the fight for justice. The portrait of a peacemaker.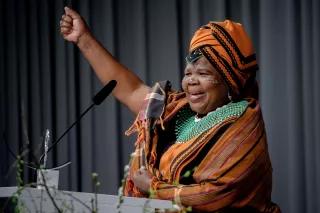 This piece is part of our dossier "No Women - No Peace: 20th Anniversary of UNSC Resolution 1325 on Women, Peace and Security".
Nomarussia Bonase is a force to be reckoned with. Formidable. Passionate. She's the kind of person who doesn't stop giving – of herself, her time, and her skills. Her life story is filled with first-hand experiences of violence and suffering, shaping the woman she became and the path she followed. 'I believe in building peace and security to restore human dignity', she says. 'Even now, in the coronavirus pandemic, people are still suffering – they don't know what to do. There are not enough platforms for helping people understand what they can do. I'm always thinking about those who are emotionally, physically and mentally depleted.' Nomarussia has spent her life doing exactly this – working with victims of violence, fighting social inequity, taking a stand against injustice. Her calling to social justice work is rooted in her childhood. When she was four years old, her parents sat her down and told her a story. They told her that when her mother was pregnant with her, police came to check passes one night while her father worked a night shift at a mine, and raped her mother leaving her bleeding and injured. When her father returned in the morning, he had to rush her to Baragwanath Hospital for urgent medical care – but baby Nomarussia survived the attack. It was the seed for the birth of her activism, for surviving against the odds.
The Birth of an Activist
'After my parents told me that story, I started looking around me, started noticing what was going on, and I decided that I wanted to go to school.' The school initially did not want to take her as she was too young, but she insisted. She joined the rest of the six-year olds and so began her lifelong appreciation for education and self-development. As a child, she watched her mother participate in community activist meetings in the rural Eastern Cape. Her mother always told her to be as strong as she could and to not let anyone bully her. Nomarussia has sought to walk in her footsteps, being the kind of woman who brings about change in the world.
At high school, Nomarussia formed a students' group and became actively involved in political protest against the apartheid regime. After matriculating, she wanted to study further but her family could not afford it. At the time, both her parents were unemployed and her family was dependent on a garden for feeding themselves. They decided that Nomarussia should travel to Johannesburg to find work to help support her family. Once there, she moved in with an aunt who worked as a domestic worker and got a job making tea and cleaning at a building materials company. But she wanted more, so, during her lunchtime, she volunteered to help the administrative staff with their filing. She signed up for a part time diploma in management, dreaming of getting a job in admin, and was soon offered a job as a filing clerk at a transport company. But admin was not enough. When she discovered that only the men at the company were allowed to join a union, she decided to canvas women workers. She succeeded in forcing the union to include women, across different race groups. She made such a mark in the union that when it went on strike against unfair labour practices, her employer told the police that she was instrumental in the strike, leading to her arrest.
Living with Loss
When she was 29, Nomarussia joined the Khulumani Support Group, a women-led social movement established in 1995 by those who had experienced violence in the apartheid era. From 1985, the East Rand, where Nomarussia lived, was ablaze, marked by extreme and brutal conflict, with many dying at the hands of the security forces and many women being raped by them. 'Each and every day, there were dead bodies around us – as you crossed the street, there were bodies. As we walked, bullets would fly.' This loss was to touch her own family when her brother was killed by the police in 1993. 'My brother had just started working in Germiston. He was twenty-three years old. At five o'clock one morning, he was waiting at the Union Station for transport to take him to work when soldiers came past and shot him. He was just standing there. Three people died that day.' Wrecked by grief, Nomarussia went to the morgue to view his body. 'The bodies were stacked like bags of cement outside. I had to go through all of them until I found what looked like the foot of my brother. I had to ask someone to help me pull him out.'
The death of her brother and the many other deaths that she witnessed ignited her fire for creating a different kind of social order. 'People were being killed and women were being raped; I had to help bring about peace and change. Through people coming together, we break the silence of the past.'
When the Truth and Reconciliation Commission was set up in 1996, a process for looking at restorative justice for the victims of apartheid atrocities, Khulumani worked with communities to talk about the concept of reconciliation. 'We said, no, no, no, as survivors of violence, we want to be a part of it. We want to see what is needed to heal the wounds.' Nomarussia took charge of trying to get reparations to victims of violence, reparations to both individuals and communities. But the Truth and Reconciliation process failed in this way. Perpetrators gained because they were given amnesty, but the victims walked away empty handed. 'The failure of the TRC to open up the real discussions we needed to have has a direct link with the high levels of gender-based violence we see today, the criminality, the lack of human dignity. People at the grassroots level have been left vulnerable.'
In 2010, she was to experience another significant loss when her husband passed away when she was forty-four years old. She was left to raise their four children on her own. At the time, she was enrolled in a training course on transformation. Her husband's death did not stop her from completing it successfully, she worked through the rawness of her grief to see it through. Two years later, when the South African police shot and killed nine mineworkers at the Lonmin Platinum Mine in Marikana, Nomarussia reached out to the wives of the slain mineworkers, to offer support. Not only did she provide practical support to the widows, but she mobilised them and created platforms where their voices could be heard in telling the story of the impact of their loss on their lives. Neither the government nor the mines had been interested in providing this support. The fruits of her efforts were realised in 2019 when the widows received compensation.
Reaching beyond Boundaries
Nomarussia's commitment to building social cohesion has stretched beyond South Africa's borders. In 2007, she helped formulate the Nairobi Declaration on Women and Girls' Right to Remedy in Reparation, a far-reaching vision for reparations in post-conflict societies. In 2008, she was asked by the Kiel Institute to share her insights on building social justice activism with women and girls on a global platform. In 2017, she was awarded the Anne Klein Women's Award for her courage and commitment to advocating for women's rights and gender democracy. While her work has been internationally recognised, Nomarussia still struggles with the significant obstacle of finding adequate funding for her work in promoting women's rights and combating violence. 'The government allocates money for building peace and security, but when it comes to the implementation, we don't see that money. We are really struggling to find the resources for our programmes, for helping the survivors of violence.'
Home Is Where the Heart of Activism Is
Nomarussia's work does not have a work-life divide. For many, her home is a safe haven, with people travelling from afar, to come and see her. 'I use my garage for workshops and I have a room where people can come and talk. Sometimes, my children have to sleep in the sitting room when we make room for people who need a place to stay.' The coronavirus pandemic has brought to the fore the legacy of inequity created by the apartheid government, showing the deeply entrenched gap between the haves and the have-nots. 'The coronavirus is like the death penalty to our people. Its effect on those who have little because of historical inequity leads to people dying. During the lockdown, soldiers came with rubber bullets to shoot, re-victimising us.' But Nomarussia has not taken this lying down and has been instrumental in protest action and in trying to help others through community projects like sewing masks and making sanitary products to help people put food on their tables. 'When we talk about peacebuilding, we have to help people to survive. We are going to protest until we get tired; we will never give up until there is harmony in the world.'
Walking, Talking Testimony
Nomarussia believes in learning from the inter-generational lessons in doing peace work. 'We have to learn from the past and our elders and we have to tell our younger generation to start a life commitment to peacebuilding. Because that is what it takes.' Her four children have been raised with this life-long commitment. 'They understand my work', she says. And when she says that we have to have a life commitment to peacebuilding, it's not all talk. She is a walking, talking testament to what it means to live in service of creating a different kind of world, one in which all people have dignity and are free from violence.