Interview
The COP26 summit (26th UN Climate Change Conference of the Parties) just concluded and the outcome was criticized for not going far enough, only phasing down coal and not phasing it out. The world's energy transition still needs a lot of work and marginalized voices are missing. Ms. Silvia Sartori, Senior Project Manager of ENERGIA, the International Network on Gender and Sustainable Energy, speaks about why gender matters in the energy debate, how a 'victimization narrative' inaccurately represents women, and what can be expected from the Gender and Energy Compact launched in September 2021.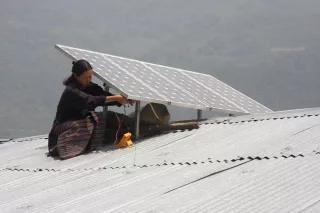 Why is it important to integrate gender equality in the energy transition debate?
Silvia Sartori: Women and men have different energy needs and use energy differently. Globally, women have less access to and control over energy services, which translates into time poverty and avoidable drudgery that hamper their health and safety, and limit their educational and employment opportunities. It is important that these differences and gaps are acknowledged when energy policies and plans are made, to ensure that they accurately reflect the demands and input of society as a whole and do not leave anyone behind.
This applies all the more to the energy transition, given its scale and far-reaching impact. For the energy transition to be truly just and inclusive, gender equality considerations need to be factored in from the very onset of the process and assessed throughout its rollout. The benefits are twofold: making sure that women and girls are not left behind in the new energy ecosystem, and turning the transition into an opportunity to address existing gaps and barriers. Otherwise, there is the risk that the new energy ecosystem perpetuates or even aggravates existing inequalities.
How would you describe women's participation in the energy policy debate? What still needs to change?
We are seeing an increase in awareness of gender issues in the energy space and a higher number of women joining the debate. However, considering the wide gap that we are coming from, there is still a long way to go for women's participation to be at a level playing field with men. Women and women organizations are not involved enough in the energy policy debate. This is especially true for higher level debates and decision-making platforms.
Women and women organizations are not involved enough in the energy policy debate. This is especially true for higher level debates and decision-making platforms.
There needs to be more engagement with and consultation of women, at all echelons of the debate. For this to happen, we need to strengthen women's agency and provide dedicated resources and opportunities to foster the soft skills of women and enable their active participation. This is especially necessary in environments and cultures that are traditionally male-dominated, such as the energy sector, where women may feel intimidated or uncomfortable to enter the policy space. At the same time, a mindset change is required, implying a recognition and understanding from the men themselves that it is important to engage women. Men and women are not playing a zero-sum game: from their respective stances and experiences, they need to join forces and become partners for a more inclusive, just and mutually beneficial energy ecosystem.
This is particularly critical as we are starting to recover from the COVID-19 crisis which put in the spotlight and often exacerbated existing gender inequalities in energy. Much of the progress that had been recently made at the nexus of Sustainable Development Goal (SDG) 5 on gender equality and SDG 7 on universal access to energy is undermined, due to the crisis. The Post COVID-19 recovery plans are the most immediate and urgent policy opportunity for just and inclusive participation of women.
Are there any misconceptions or narratives on women and gender in the area of energy and climate justice that need to change?
The main one is the narrative that portrays girls and women as victims. Girls and women surely are adversely impacted by climate change and unequal access to energy, and to a larger extent than boys and men. If we think for instance of how many women in developing countries are working in agriculture or are still tasked with procuring water or firewood for their households, it is clear that they bear the biggest brunt of the negative repercussions of climate change.
However, it is essential to recognize that women are more than just passive victims. Under equitable circumstances, women and men have an equally powerful and important role to play in addressing root causes of problems and identifying solutions. This applies to climate change, energy poverty, or any other issue.
Women are effective change agents and should be acknowledged and supported as such.
Women are effective change agents and should be acknowledged and supported as such. Ample evidence and research illustrate how governments and companies that include a wider share of women tend to adopt climate commitments that are more environment-friendly and more ambitious.
Sticking to the victimization narrative, women are incorrectly reflected in the discourse. The huge potential that their agency represents remains unacknowledged and gets wasted. Removing the barriers that prevent women from entering, rising through and fully participating in the energy sector is thus not only a matter of social justice, but also of smart economics. It allows all of us to tap into the skills, know how, networks and resources of women and unleash their full potential to drive positive change.
What is challenging in particular in the energy sector and in regard to energy policies, when it comes to gender equality and more inclusion?
The very first challenge is collecting accurate, gender-disaggregated data. Irrespective of regions and sectors, it is still widely challenging to obtain specific data, for instance, on the differentiated role of and impact on women and men in energy matters. And so long as we do not have a correct picture of the specific gendered status behind a given problem, we cannot effectively assess policy options, identify targeted solutions, and evaluate results.
Secondly, in line with what I mentioned earlier, more women, including women in high-level positions, need to be part of the decision-making processes where energy decisions are taken. Here as well, we cannot expect policies to truly reflect the voices, needs and talents of women so long as they do not have a seat at the table.
More women, including women in high-level positions, need to be part of the decision-making processes where energy decisions are taken.
Grooming a new generation of women in energy also implies supporting a wider enrollment of girls in STEM (Science, Technology, Engineering and Mathematics) studies. While we see that in the shift to renewable energies the employment of women in the energy sector is increasing (from 22% to 32% according to IRENA, the International Renewable Energy Agency), women still remain mostly occupied in administrative positions. Men hold the majority of STEM jobs within the sector, be it in traditional or cleaner energies. It is imperative that policies, education systems but also social narratives and role models join forces to incentivize and support girls in STEM careers.
Can you tell us about the energy compact on gender equality and women's empowerment that ENERGIA is co-initiating with GWNET (Global Women's Network for the Energy Transition) and UNIDO (United Nations Industrial Development Organization)? How does the compact contribute to gender equality in sustainable energy transition?
Jointly with UNIDO and GWNET, ENERGIA has initiated a Gender and Energy Compact that was officially launched at the UN High-level Dialogue on Energy during the General Assembly in September. The Compact stems from the acknowledgement that efforts need to be accelerated to ensure a just, inclusive and gender-responsive energy transition, all the more after the COVID-19 pandemic. Supported by the governments of Canada, Iceland, Ecuador, Nepal, Kenya and Sweden, the initiative invites governments, the private sector, academia, civil society, youth, and international organizations to submit their own individual, voluntary Compact to capture their organization's specific commitments between now and 2030 to achieve SDGs 5 and 7 [on gender equality and access to energy].
To date, more than 40 organizations have signed up to the Compact and submissions are welcome on an ongoing basis. It has been featured prominently at the COP26 summit, as gender equality and women's empowerment are cornerstones of the climate debate, too. The Compact raises the attention on the need for catalyzing action towards gender equality in energy and prompts all stakeholders to reflect on how they can play a role to advance progress, defining specific steps, timelines and tools. In so doing, it also creates a 'coalition of allies' who support each other, share resources and expertise, and advocate globally for stepping up the commitments towards a just, inclusive and gender responsive energy transition.
What is particularly challenging in Southeast Asia in regard to gender and energy, and how can it be addressed?
It is especially concerning that Southeast Asia is still mostly relying on traditional fuels and devices for cooking which are inefficient and polluting. Using biomass such as wood, charcoal and cow dung has an array of negative effects. Exposure to hazardous smokes causes respiratory and cardiovascular diseases, infections, cancers and strokes, not to mention the risk of injuries and burns. With girls and women being traditionally assigned to cooking and looking after the children in the household, they account for the main victims of these hazards. Worldwide, every year this household air pollution causes 4 million premature deaths, and 45% of pneumonia deaths in children under five years of age. In addition, as they are inefficient, these cooking solutions deprive girls and women of precious time they could otherwise invest in education or income-generating opportunities, thus reinforcing a vicious cycle of poverty.
Data from the World Bank in 2020 estimate that only 21% of the population in Southeast Asia has access to modern energy services for cooking, compared to 37% in East Asia and 27% in South Asia. Reversing this trend should be a matter of utmost priority, all the more in view of Agenda 2030 whose SDG 7.1 targets "universal access to affordable, reliable and modern energy services," including those related to cooking.
This requires a concerted effort from policymakers, financing institutions and the private sector to fast-track market expansion of clean cooking technologies, support access to finance for efficient and cleaner cooking stoves, increase consumers' awareness about the risks of traditional cooking devices, and the benefits of modern ones.
---
Ms. Silvia Sartori has been working in different capacities on multiple international development and cooperation projects for the past 15 years. She predominantly works at the nexus of energy and environment, women's empowerment and entrepreneurship, private sector development - especially Small and Medium Enterprises (SMEs) - innovation and sustainability. Her academic background is in SME Management and Development and Asian Studies. Ms. Sartori has been working across 20 least developed, emerging and developed Asian countries and in support to Asian, European, Latin American, Middle Eastern and Sub-saharan African women entrepreneurs. In January 2021 she joined ENERGIA as Women's Economic Empowerment Senior Project Manager.
---