Speech
In her acceptance speech Joumana Seif talks about the long road necessary to prosecute the crimes committed by the Syrian regime, to punish the perpetrators and also about the injustices suffered by women and how she is trying to support them in Germany.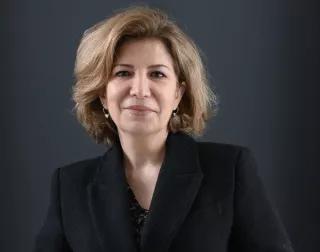 First I would like to express my deeply felt gratitude to the Heinrich Böll Foundation and all of its team members in Berlin and Beirut for giving me this award. I regard it as a tribute to all Syrian women and as a recognition of all the supporters of human rights and of other just causes.
Dear friends,
a few days after the jury's announcement my friend Amal Al-Salamat from Antakya contacted me to congratulate. She wrote: "We are no less happy about this award than you are – because this gives us hope by showing that there are still people out there that care for us and our cause!"
My friend Amal has a degree in sociology and she had been working as a social worker in Damascus schools for many years. She supported the Syrian revolution and campaigned for liberty, civil rights and the rule of law. In August 2013 her husband was arrested and he is still unaccounted for. Amal fought for justice in Syria and for the right to know what happened to her husband, the journalist Jihad Mohammed. Because of this, the security forces were trying to track her down and she had to flee. First she went into hiding in a number of places in Syria, until, finally, she made it to Antakya in Turkey. There she lived in a small room with a view of an olive tree, vines and roses, and there she continued her work on forced disappearances and supported the victims of sexual violence.
Amal survived the earthquake that hit Turkey and Syria on 6 February 2023, yet once again she is in a state of shock about her loss because many friends and neighbours, who had become her new family, perished in the disaster. Amal was displaced for a second time, as she had to leave her small room that now, together with the olive tree, the vines and the rose bushes, lies in ruin. She was taken in by a friend in Ankara, and she has no idea what the future will look like. Today, Amal, who'd always been a source of strength and inspiration to me and to everybody around her, doesn't do well. In Arabic the name "Amal" means "hope", and I've always told her, "you're an honour to your name." Yet her hope, as well as ours, is in danger of vanishing because we Syrians keep tumbling from one catastrophe to the next.
Refugees in Northwestern Syria are suffering violence from the sky and from the earth
Amal's story resembles that of many of my friends who have been victims of all kinds of abuses and harm. Over the last few years I have interviewed hundreds of female and male survivors who had been arrested, tortured and displaced and many of which had experienced sexual violence. The majority of these women have been displaced from their towns and villages and, along with hundreds of thousands of other Syrians, have been violently displaced to Northwestern Syria. Many of them are single mothers and they are the targets of Russian bombardments and of the despotism of the groups that control the areas. They are suffering violence from the sky and now from the earth, too. Their resistance is weak and fragile, and, once again, the earthquake has made them homeless. Faced with disaster, affected areas in Northwestern Syria had to take care of themselves for five days, with borders closed for emergency teams and international aid alike, while everyone was waiting for Damascus', that is, for Assad's, permission to open the crossings … permission from the very person who had targeted them with chemical weapons. The borders were only opened once the hope of whole families had vanished to find their loved ones alive beneath the rubble and once apologies and declarations of sympathy were of no use any more.
Dear friends,
can you imagine that 90 percent of Syrians have never experienced any other rulers of their republic than the Assad family, a rule Bashar inherited from his father? Can you imagine what this means?
I have never experienced any other rulers. I was born in 1970, the very year Hafiz al-Assad came to power, which, in 2000, he passed on to his son. During these 53 years, Syria has become one giant prison. Since I was a child, I've lived with the fear of being disappeared, of torture and incarceration and, like all members of my generation, I witnessed how the regime is using detention as the main instrument of oppression and submission. Since the massacres of  Palmyra and Hama, Syria has been transformed into a realm of silence. When Syrians decided, in 2011, to break this silence and to rise up in dignity and liberty, Assad Jr. surpassed his father's brutality and committed the most heinous crimes – crimes that continue to this day.
Since the beginning of the revolution – it's 12th anniversary is due this month – women and men in Syria have gone to great lengths to document these crimes. Many of them were killed, others were abducted and disappeared, as happened with my friends Razan Zaitouna and Samira Al-Khalil. Others risk their lives to smuggle evidence out of the country to present it to the international community and hold the perpetrators to account – one exceptional example is the courageous photographer who goes by the alias Cesar. Yet, despite all of these efforts and sacrifices and the amount of evidence Syrian organisations have collected and presented to the Independent Investigation Commission and to international human rights groups, the victims, despite repeated efforts, were not able to access the International Court of Justice – because both Russia and China veto any such action.
In Berlin a door of hope was opened to recognise the victims and the ordeals they have suffered
In March 2017, in this very space, the Heinrich Böll Foundation organised an event with my colleague Wolfgang Kaleck (who I didn't know at the time). There, he spoke about the principle of universal jurisdiction and he discussed criminal procedures the German Public Prosecutor General had launched. The event included survivors from Syria, and despite the pain I felt hearing them speak about their experiences, I also felt a ray of hope – of hope for justice in Syria. For me, this opened a door towards recognising the victims and the ordeals that we have suffered, a door towards truth and redress and for the fight against impunity.
Some weeks later, at the Foreign Office, I met representatives of German civil society groups working on Syria, and it was there that I encountered Lily Kather, who suggested that I apply for a position with her employer, the ECCHR, something that turned out to be a stroke of luck. I well remember interviewing with Patrick Kroker and his smile when I said, "I'd like to work with you, even just as a volunteer, because it is work for my cause!"
This cause I haven't just taken up since coming here but ever since I recognised what wrongs women are suffering and what overlapping mechanisms lie behind this.
Early on in my professional life I learned through meeting many working women that, in my country, they are subject to serious violence and discrimination. This occurs at a social, legal, political, as well as cultural level and it defines their daily lives. I began to realise that such violence and discrimination is the result of political tyranny, which is in cahoots with forces with similar agendas and, in sum, this leads to the subjugation of women to men. The dictatorship is thereby able to neutralise half of Syria's population and, together with its religious allies, all of society is knuckled down.
After being imprisoned women experience a two-fold stigmatisation
This is exactly what happened after the revolution began. It was surprising to see how many women took part because, in this historic situation, they recognised an opportunity to gain equal rights and to liberate themselves from discrimination, subjugation and marginalisation. However, the regime banked on the patriarchal mindset it had entrenched in society and which enshrines family and social honour in the bodies of women. Consequently, it arrested female activists and supporters of the revolution, as well as the spouses, daughters and sisters of men who opposed the regime, well-knowing what this would mean for the women affected. A woman who has been to prison is socially stigmatised because everyone assumes that she must have been raped while there. In this way, the regime managed, once again, to splinter society and to cut the number of insurgents in half.
Convinced that justice has to be inclusive and may not exclude anyone, and in the firm belief that formerly imprisoned women have a right to redress, I and my colleagues are pursuing a number of approaches:
In the social sphere we have been emphasising the social, economic and legal challenges female victims of imprisonment and sexual as well as gender-based violence are facing. The "Road to Justice" campaign was founded by a number of Syrian women's organisations in order to explore ways in which survivors may gain justice and that will also take the edge off their suffering.
At the same time, we are campaigning against sexual and sexualised violence and we have asked international organisations and supporters to help the victims by offering them long-term health and psychiatric assistance.
In the legal sphere, after years of investigating, we at the ECCHR, in partnership with the Syrian Women's Network and Urnammu, have filed charges with the German Public Prosecutor General in the name of seven survivors to investigate crimes involving sexual and gender-based violent crimes that took place in detention centres run by Syria's Secret Service of the Air Force and the National Security Office. This investigation is ongoing.
Sexual violence has been recognised as a crime against humanity
In addition, our partners, the lawyers Patrick Kroker and Sebastian Scharmer, representing a group of witnesses, had already filed a motion with the Higher Regional Court in Koblenz to recognise sexual violence in Syria as a crime against humanity and not as an individual transgression, as it had been characterised in the indictment. The motion listed over one hundred pieces of evidence for such crimes, proofing that they had been committed methodically.
During the Koblenz trial, which lasted 21 months, the court – and also, via the media, the public around the world – learned from the harrowing statements of courageous male and female survivors what had happened to them in Assad's prisons. A number of them told the media, and also stated in their closing statements, that they had participated in the trial despite fearing reprisals from the regime and the psychological toll of having to relive painful memories because, in the end, they felt compelled to do so out of responsibility and an obligation towards those they had to leave behind in Syria's chambers of death. Here, by speaking with an impartial judiciary, they wanted to share their story with the world.
In January of last year the court pronounced its historic judgement, recognising sexual violence, alongside murder, torture and unlawful imprisonment, as a crime against humanity. It was a verdict, acknowledging the rights of the victims – a verdict that put the lie to the narrative propounded by the criminal Assad regime, which denies that any serious assaults are taking place inside its prisons.
I wasn't inside the Koblenz court room when the verdict was announced, as I and my colleagues had decided to offer our seats to relatives of the victims. Thus I could observe the faces filled with hope of those exiting the court room after the verdict. A courageous joint plaintiff told me joyously that the court had recognised sexual violence as a crime against humanity and had also delved deep into Syria's history, even mentioning the massacres committed by Hafiz al-Assad and calling them the foundation of Syria's dictatorship. For the witness and other victims this was a cause for satisfaction.
Syrians need our support and solidarity
The Koblenz verdict gave many Syrians hope that justice would be done. Afterwards some of them contacted me, hoping that this may become the starting point on a road towards justice, and that the wrong they've been subjected to for years without any intervention from the international community may end and that a just solution will stop this tragedy.
Today, especially following the earthquake, Syrians need more support and solidarity than ever. It is time for a fundamental and just political solution, one in accordance with international resolutions, a solution that will bring about a democratic transition – something for which so many have suffered. The victims need to know that their sacrifices have not been in vain.
What we fear most today is that relations with the regime will be normalised and thus the regime vindicated. Such an outcome would disregard the will and the sacrifices of the Syrian people. This, should it happen, would violate all human rights and it would be a disgrace for humanity, especially for the democratic countries, because it is to them that we look for deliverance in the same way, as the people of Ukraine and of Iran are hoping for deliverance in their fight for democracy and a humane existence. Let us not forsake those peoples in need because a loss of hope will result in nihilism and a desire for revenge.
As far as I'm concerned, I will not abandon hope.
The way towards justice is hard and thorny, yet it is right


 
Dear friends,
journalists often ask me, Where do you take the energy for such demanding work? My answer: From the Syrian women and men who, despite all the disasters that have been visited on them, are still determined to fight on, resist and make their dreams come true. I get my energy from the amazing Syrian women who survived prison and sexual violence and who continue to fight for justice, liberty and equality; from the mothers and wives of the forced disappeared who are impressing the world with their resilience and determination and who make their voices heard to find out what happened to their loved ones; I get my energy from the solidarity of Syrians who, following the earthquake, helped each other without any support from governments, the powers that be or state-run programmes, but who came to each others aid. They demonstrate all that's best about the Syrian people and they give us hope – for a better future, once the conditions are right.
For me, not to give up hope is not a matter of freedom of choice, it is the only possibility. The same is true for many Syrian women and men who, despite all uncertainty, believe that their cause is just. They continue on the way of our humaneness and dignity, in recognition of those who are no longer with us and for the generations to come. We know, the way towards justice is hard and thorny, yet it is right.
To conclude let me, once again, thank the Heinrich Böll Foundation; thanks to my father who taught me commitment, to my family and to all my feminist friends and colleagues for their solidarity and support during the most difficult of times.
Many thanks to all of my colleagues at ECCHR who believe in the Syrian cause and who have put a lot of heartfelt work into the fight to protect our right for justice; special thanks goes to my colleague Andreas Schüller for his continuous support.
My thanks go out to all who have supported our just Syrian cause – and who continue to do so.
---
Translated by Bernd Herrmann.