Speech
With her work the lawyer Joumana Seif has played a critical role in having sexualised violence recognised as an offence that constitutes a crime against humanity, says Dr. Imme Scholz, head of the Anne Klein Women's Award jury.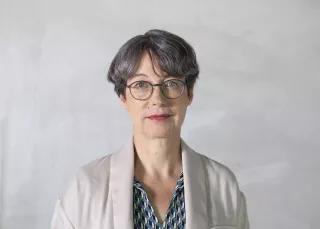 When I immersed myself in the life and work of Joumana Seif, I also had to revisit the many years of political struggle and war in Syria. It was twelve years ago that women and men in Syria began to take their protest to the streets to demand dignity, justice and liberty.
Since then, the regime's violent reaction has caused the death of over half a million people, and there have been 130,000 forced disappearances. Almost every Syrian family is missing one or more loved ones.
Almost every Syrian is missing loved ones
More than half of all Syrians had to flee their homes, and among those who had already been most seriously affected the terrible earthquake of 6 February heightened the suffering even more.
I'm aware that today many of you don't feel like celebrating. In our thoughts we are with the people and with our partners in the region, and we would like to express our deepest sympathy with all who have lost family and friends.
Still, despite all the pain we do need hope – and this is precisely what this year's awardee, Joumana Seif, represents with her personality and her work for the rights of women, for self-determination and democracy, and against the tyranny that has affected her family too. Despite or because of the political violence the regime has wielded against her family, she campaigned for reforms during the Damascus Spring. Also, she studied law to be better able to campaign for human rights. Death threats against her and her family forced her into exile during the uprising against Bashar al-Assad, and she has been living in Berlin since 2013.
However, despite all these horrible experiences, dear Joumana, and despite having to live in exile, you refused to be bullied. Your courage and your commitment to human rights – and especially the rights of women – will not be defeated.
In Berlin, Joumana, together with other activists, created the "Syrian Women's Network", the "Syrian Feminist Lobby" and the "Syrian Women's Political Movement", organisations that, in one form or another, campaign for a future Syria that is more just – a Syria, in which women will participate in political decisions and in which all people will enjoy equal rights.
Women should participate in all political processes
What made Joumana a feminist were her experiences during the Arab Spring and with the Syrian opposition. She was stunned: Everything is supposed to change, Syria is to be rebuilt, yet women are not part of the process? This sure has to change!
Because without women it is impossible to achieve peace, justice and a good life.
Joumana is fighting to have women participate in all political processes and to make them a key part of a new Syria – a Syria that is peaceful and just, for men, for women, for all people.
For that alone Joumana would deserve to be honoured. However, for us, the jury of this year's Anne Klein Women's Award, something else was decisive, namely, Joumana's campaign to legally challenge gender-based sexualised violence, which, in Syria, is being systematically used as a tool to suppress and terrorise any opposition, and, by extension, she is demanding that such crimes are being prosecuted based on the principle of universal jurisdiction, that is, that they are pursued in other countries and whenever they come to trial.
Around the world, sexualised violence is used in conflicts and wars as a means to maximally humiliate opponents. The results are traumata and irreparable harm to survivors who will also often be socially stigmatised and discriminated against.
Yesterday, German Foreign Minister Annalena Baerbock unveiled her guidelines for a feminist foreign policy, in which the great harm caused by sexualised violence plays an important part.
As a lawyer at the European Center for Constitutional and Human Rights (ECCHR) Joumana played an important role during the so-called Al-Khatib trial that took place at the Higher Regional Court in Koblenz between 2020 and 2022, making it the first trial addressing torture by the Syrian government. Joumana looked after the torture survivors who gave testimony regarding torture and sexualised violence perpetrated by the Syrian secret service in the Al-Khatib prison. 
It is necessary to bear witness of injustices and to prosecute them
In her report "Words against Silence" Joumana documents the central role of the use of sexual violence by the Syrian security forces against women who have been arrested for political reasons. The report mainly consists of quotations from women who Joumana looked after. These quotations show that there is a fundamental difference in the way female and male prisoners are being held and tortured. For the very start, women, because of their gender, their subordinate role in society and their lack of rights are being humiliated and threatened. All women expect that they will be raped, yet they are also subject to other sexualised forms of humiliation. One witness put it thus: "Men leave prison as heroes, women leave it humiliated and shamed."
Accordingly, I have great respect for the women who had the courage and strength to face the legal proceedings and who allowed Joumana to record their testimony, a very painful process, and to publish it in her report.
During the court case, the Foundation supported ECCHR. For many years we have aided Syrian civil society, and we will continue to use our Green networks to make its voices heard, be it in German politics or for the German public.
As Joumana continues with her work, we will also continue to support our Syrian partners in their endeavours for justice and to have perpetrators prosecuted.
The verdict in the Al-Khatib trial was handed down in January 2022 and the defendant sentenced to life in prison. Here, for the first time, sexualised violence was not viewed as an isolated incident but as a systematic crime against Syrian civil society – and thus as a crime against humanity.
Sexualised violence is a global phenomenon
For the year 2022, UN Secretary-General António Guterres has listed 49 warring parties around the world that perpetrated acts of sexual violence. What this means is that in many conflicts rape, sexual slavery, forced abortions and sterilisations are being systematically used as a weapon of war. Almost always the victims are female, yet queer persons, as well as, non-binary and trans people are also victims of such violence.
In 2022 a report was published on systematic sexual violence during the Lebanese Civil War 30 years ago. It was only then that many realised that thus far this type of violence hadn't been discussed in any of the many tomes published on the war – nor have any of these crimes ever been prosecuted.
Be it in former Yugoslavia, in Rwanda, Columbia, Iran, Myanmar, or in Ukraine, sexualised violence is a global phenomenon. As can be seen in Afghanistan, whenever women have no rights and no access to education and healthcare they are at the mercy of men.
Against this background, we can't praise Joumana's achievement too much. She has managed to get sexualised violence recognised as a crime against humanity.
This means, Joumana has made legal history.
The Anne Klein Women's Award wants to encourage, give thanks and promote solidarity
I said earlier that we need hope – hope for peace and for a more equitable future.
In 2018 the Anne Klein Women's Award went to Mayerlis Angarita and Jineth Bedoya from Columbia, because they had given a voice to women who had become victims of sexualised violence during the armed conflict in their country. I have reread their speeches, and this gave me a sense of how important it is for social reconstruction to give such women, who have been humiliated, back some of their strength by letting them speak, by listening to them, by redressing iniquities and by making them part of peace negotiations and reform efforts. It was, among other things, the empowerment of those women that made possible the election victory of Gustavo Petro and Francia Marquez.
This is what we hope will also happen in Syria, in Egypt, in Iran, in Ukraine, once the war there has ended, in Belarus and in Russian society.
This is what Joumana represents for me – the strength not to give up, to fight on, to keep calling for justice, justice for Lama, Sara, Sawsan and Hala, justice for all the people whose testimony we can read in the report "Words against Silence", for the people who have suffered at the hands of the henchmen of Syria's regime.
Out of this hope and out of this strength one day a new Syria will be built – a Syria more peaceful and just, a Syria for men, women, for all people.
Dear friends,
I would like to invite you today to honour a woman, a campaigner for justice, a fighter who actively wants to shape a future that is different – different for Syria and for women around the world.
The Anne Klein Women's Award wants to encourage, give thanks and promote solidarity. The members of the jury of the Anne Klein Women's Award, the Heinrich Böll Foundation and I are delighted to honour your work today and to stand at your side in solidarity. Congratulations, Joumana!
With this I give the floor to Lotte Leicht. Between 1994 and 2021 Lotte Leicht, a lawyer by training, was the EU Director of Human Rights Watch and she is the current chairwoman of ECCHR. When I asked Lotte whether she would like to speak tonight she immediately accepted, and I'm glad that she, as a lawyer discussing another lawyers work, will be able to appreciate Joumana's work in all its depth.
The floor is yours, Lotte.
---
Translated by Bernd Herrmann.