The Anne Klein Women's Award 2013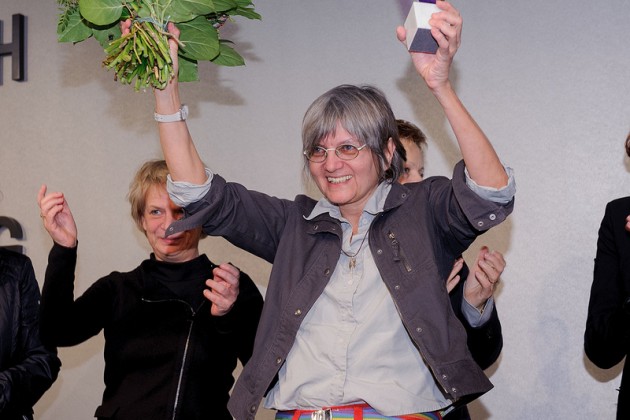 The laureate 2013: Lepa Mlađenović
For decades, the feminist activist and intellectual Lepa Mlađenović from Serbia has been committed to the rights of women and people with sexual identities beyond the majority norms.
Lepa Mlađenović advocates for women and lesbians on very different levels: she is active in peace and reconciliation work and develops strategies to prevent violence. She strengthens the sexual identity and self-confidence of LGBTI (Lesbian, Gay, Bi-, Trans-, Intersexual), coorganises the Pride marches in Belgrade and provides solidarity for those discriminated against and victims of violence. Lepa Mlađenović is a co-founder of many organisations and networks, including the peace organisation Women in Black Belgrade and the organisations for lesbian rights, "Arkadia" and "Labris", of which she is the spokesperson.
With all her initiatives, Lepa Mlađenović repeatedly puts herself in great danger. Sadly, discrimination, personal and public hostility by the media, the Serbian state and by society are part of Lepa Mlađenović's everyday experiences, as they are for other homosexual people in Serbia and the Balkans. Lepa Mlađenović gives courage and inspires many comrades-in-arms in Serbia, in the Balkans and worldwide with her political commitment.
Information about the Anne Klein Women's Award
In honour of Anne Klein the Heinrich Böll Foundation has created the Anne Klein Women's Award. Anne Klein, a dedicated lawyer and openly lesbian politician, has been a pioneer of feminist causes. She served as the first feminist Women's Senator in Berlin's state government. The prize is annually awarded to women who have shown exemplary commitment for making gender democracy a reality. The award is endowed with 10.000 €.
Ulrike Cichon
Heinrich-Böll-Stiftung
Schumannstraße 8
10117 Berlin
T 030-28534-112
F 030-28534-5112
E cichon@boell.de