Nuclear disarmament has long been a distant issue in the life of Philippinean peace advocator Loreta Castro. Over the last two years of involvement she began to see it as an urgent imperative.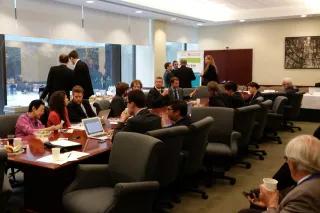 I have been a peace educator and advocate for more than three decades now. I have done lobbying work with parliamentarians and other government officials in my country. However, this past week (May 4-8, 2015), I had a new experience advocating for a cause that I truly believe in, but this time at a global level at the UN, through the generosity of ICAN Germany and Heinrich Böll Stiftung.
I am the founder and program director of the Center for Peace Education based in Miriam College in the Philippines. This Center is an ICAN partner organization since two years and this is how my cooperation with ICAN began: It is a cooperation that I welcomed because I have always believed that the use of nuclear weapons is wrong, but I also knew that it is a very difficult global issue because nuclear armed states have depended on these armaments to sow fear and to advance their policy of deterrence. Hence, nothing short of a global movement had to meet the problem head on and to me, ICAN represented this global movement.
The engagement with ICAN opened my eyes. I started with my own local efforts in raising public awareness about the issue, educating the educators, lobbying with parliamentarians and engaging with the officials of the Department of Foreign Affairs. This week of campaigning at the UN with delegates of Asia-Pacific states in particular, seems to me the culmination of those past local efforts.
I also realized, after listening to the exchange of views during the UN main committee meetings and participating in the side events, as well as talking to many country delegates at the UN, that the advocacy of a treaty banning nuclear weapons is fraught with hurdles that need to be overcome. However, it is an advocacy that is very much worth it, because of the catastrophic humanitarian consequences of any nuclear detonation. The fact that we still have many thousands of these weapons on alert status and on stockpile truly puts our world in great danger.
Over the last two years of involvement with ICAN, I began to see nuclear disarmament as an urgent imperative when in the past it was a distant issue in my life as a peace educator and peace advocate. I was just too immersed in my own local and national peace issues because we had armed conflicts in the country and structural violence, among other challenges. At most, the global issue that I felt very deeply about was the war system as a whole.
I now see the ban on nuclear weapons as urgent and one that should be the concern of all. As one speaker in the NPT Review Conference side event has said: "We may not be part of the problem, but we all have to be part of the solution." In short we have to all work together to get the world's governments to call for this treaty. We have already outlawed other weapons of mass destruction such as biological and chemical weapons. Why not nuclear weapons, when it is the most destructive of all?
It is expected that nuclear armed states and the nuclear umbrella states would resist this because of their so-called security concerns but I agree with ICAN that a treaty banning nuclear weapons supported by the rest of the world can still make progress, and that the road to elimination is prohibition.
I end with words of hope. Over the last two years I saw the momentum towards a nuclear weapons ban gather more strength. It is a matter of time. We only have to persevere in our work of raising public awareness and convincing our respective governments. The huge risks and humanitarian consequences cannot be ignored. And as the last UN side event that I attended stressed, nuclear weapons are intrinsically immoral. Views do change over time. And it is my hope that all the current "resisters" will, sooner than later, see that the banning of nuclear weapons is both a humanitarian and ethical imperative.
This article is part of our German dossier on the five-yearly Review Conference of the Nuclear Non-Proliferation Treaty, whick takes place from April 27 to May 22, 2015 in New York.