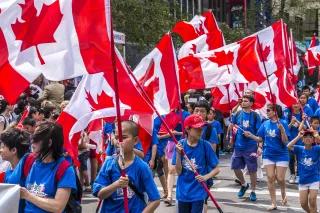 The Canadian candidates know that they can't without the support of the immigrant communities. Why do they have such a huge influence? About the Canadian phenomenon of the "visible minorites".
Just as US presidential candidates – with the notorious exception of Donald Trump – know that they cannot win without the support of minority voters, the upcoming Canadian parliamentary elections are seeing parties doggedly courting the support of Canada's minority and immigrant communities. As the Toronto Star predicts, "the big battlegrounds in 2015 will be where the immigrants to Canada have made their new homes in this country."
But who are Canada's immigrants and why do they have so much influence in the October 19th elections? According to a recent analysis by The Globe and Mail, 18 of Canada's 338 ridings (voting districts) "have visible-minority populations ranging from 50 to 70 per cent" and another 15 "have populations that are more than 70-per-cent visible minority." (The term "visible minority" is unique to the Canadian context, and significantly overlaps with Canada's immigrant communities.) Analysts argue that these minority and immigrant populations do not have clear party loyalties. With the so-called "ethnic vote" up for grabs, the three major parties—the ruling Conservatives (or Tories), the Liberals, and the New Democratic Party (NDP)—are rushing to make inroads with this critical sector of Canadian voters.
Canada's immigrant communities
Canada is one of the few countries in the world where pro-immigration policies are widely supported across the political spectrum. In the 1960s, the nation pioneered the merit-based point system, through which immigrants qualified for visas on objective measures of language skills, work experience, education, and family connections in Canada. The new system sought to rectify earlier racial policies that explicitly excluded Chinese and other Asians. Before the 1960s, Jews were also considered undesirable: the phrase "none is too many," purportedly used by an immigration official in 1945 in reference to Jewish immigrants, aptly described government policies. Today, the widely-known phrase is a stark reminder of everything Canada does not wish to be.
For the past several decades, the revised point system and high annual immigration targets—250,000 for the past 15 years– have made Canada one of the most welcoming immigrant destinations in the developed world. According to official government statistics, one out of every five Canadians is foreign born, "the highest proportion among the G8 countries." In comparison, the foreign-born populations of Germany and the US are slightly more than one in ten (12.9% and 12.5%, respectively).
This embrace of immigration and multiculturalism has also led to a remarkably diverse immigrant population. Today, well over half of new immigrants come from Asia and the Middle East; Europeans make up the next largest share. Most of the foreign-born population is concentrated in Canada's urban centers, with 60 percent in politically important ridings in Toronto, Montreal, or Vancouver. 
Immigrants' political clout extends well beyond the census: the 2011 election saw 42 foreign-born Members of Parliament elected—13 percent of the House of Commons—with representation spread across all five major parties. These foreign-born MPs, moreover, are remarkably diverse: 15 Europeans, 11 Asians, 11 from across the Americas, and 5 Africans.
Immigrant Communities' Voting History
Historically, foreign-born Canadians largely supported the Liberal Party. Under the iconic former Prime Minister Pierre Trudeau, who governed Canada for most of the 1970s, the Liberal embrace of a national multicultural policy ensured the support of Canada's immigrant communities.
But the 2011 election saw large-scale shifts in the "ethnic vote." A major Conservative victory, the 2011 election was also the first time that the Liberal Party formed neither the government nor the official opposition, now represented by the NDP. In an interview with Wall Street Journal editor Gerard Baker in September 2014, Prime Minister Stephen Harper attributed his party's landslide victory to immigrant voters: "The growth of Conservatism in Canada, our electoral support, has been largely, not exclusively, but largely by our penetration of immigrant voters ... of so-called cultural communities," Harper said.
Small wonder then that the Tories just raised annual immigration targets from 250,000 to an all-time high of 285,000.
Conservative Immigration Policies
Unlike in the US and much of the rest of the world, Canada's immigration debate has not centered on curbing immigration. Instead, since 2003, both Liberal and Conservatives governments have sought to change the kind of immigrants Canada admits, placing a new focus on so-called "economic" immigrants.
At the center of Harper's most recent reforms is the new Express Entry system. John Ibbitson, a journalist with the Globe and Mail and senior fellow at Center for International Governance Innovation, suggests that the new system more closely resembles a hiring process: instead of receiving points for language skills, education, family connections, and work experience, and being admitted based on an objective cut-off point, immigrants will now apply to be part of a pool of candidates. "Those considered the best match for Canada's labour needs," Ibbitson explains, will then be "invited to enter to Canada as permanent residents."
The new system will be considerably faster, reducing processing time to a maximum of six months, and it may make good economic sense. But some fear that it will also reintroduce prejudice into the immigration process. For one, it gives bureaucrats and the private sector considerably more power in selecting candidates. Those selected by provincial governments or with existing job offers will have much higher chances of receiving permanent residency, permitting biases in the job application process that may unfairly favor certain applicants. A recent write-up in The Economist cites fears by Canadian Visa officers that the new system could increase fraud, allowing "non-existent employers [to] offer fictitious jobs to residents' friends and families." The authors also suggest that linking immigrants' residency status to employers increased the risk of abuse. Yet others point out that the new preference for economic migrants makes family reunification less of a priority.
Shaping a Conservative Electorate?
Harper's critics argue that the reforms are part political ploy. "Well-educated, fluent in English or French or both, self-reliant, able to fit seamlessly into the workforce without need of government assistance---these 'bootstrap immigrants,' as they could be called, might also be inclined to vote Conservative," says Ibbitson. In fact, Conservative policies may simply be precipitating existing trends: in an interview with New Canadian Media, University of Toronto Professor Phil Triadafilopoulos notes that, "Data from recent Canadian Election Studies consistently show that visible minorities and immigrants tend to be more conservative than non-visible minority and non-immigrant Canadians on a number of contentious social issues."
Yet overall, the parties are not far enough apart on immigration policy reforms for this to be a major campaign issue. As Triadafilopoulos observes, "Canada is unique among major immigration countries in the degree to which immigration policy is de-politicized, and immigration itself is enthusiastically embraced by federal political parties." While all parties are actively competing for the "ethnic vote," everyone agrees that "there's no political pay-off for populist anti-immigrant rhetoric at the federal level."
Aboriginal Votes
Interestingly, outreach to immigrants and "visible minorities" has also included a renewed effort by the Liberals and the NDP to court votes in the historically marginalized aboriginal communities. In the past, turnout among aboriginal voters has been 15 to 20 percent lower than the national average. Yet this year, First Nation leaders are rallying community members to vote, reminding them that in "fifty-one ridings [aboriginal voters] can make a difference between a majority and minority government" and exhorting them to "Show that our people matter…[and] our issues will not be put to the side."
Joining these efforts is Ashley Callingbull-Burnham, the first Canadian and first Aboriginal woman to win the Mrs. Universe contest. Following her win this August, Callingbull-Burnham has appealed to aboriginal voters to oust the Conservative government: "this government was created to work against us and not for us," she says, reminding her community to register to vote and to fight for their issues. Like her fellow aboriginal leaders, she has called on politicians to address the missing and murdered indigenous women, housing, environmental concerns, and education and cultural promotion in First Nation communities.
New Democratic Party Leader Thomas Mulcair and Liberal candidate Justin Trudeau have pounced on the opportunity to make gains among these minority voters. Both addressed the Assembly of First Nations this past July, promising to tackle the communities' key issues. With harsh criticism for the "unilateral, top-down" approach of the Conservative government, Trudeau promised a new investment of $2.6 billion for First Nation K-12 education in the first mandate of a Liberal government, as well as $500 million for First Nation education infrastructure. Mulcair, meanwhile, has promised to launch an inquiry into the nearly 1200 missing and murdered indigenous women within the first 100 days of taking office - an issue the Tory government has consistently refused to address.
So what does all this mean for the elections?
With only days before the election, it is still uncertain which party will form the next government. What is clear, however, is that in this year's election, both the 6.8 million foreign-born Canadians and the 1.4 million Canadians of Aboriginal descent will play a deciding factor in the winning parties' success. 
This article was first published on the website of our North America Office.