Homage
The Goethe Medal 2017 will be given to Lebanese writer Emily Nasrallah. She is one of the most famous writers in the Arab world. In her texts for adults and children, she has found a poetic language to describe everyday life in the Lebanon drawn by the civil war.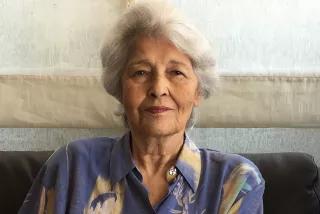 "I am a peasant woman, the daughter of villagers" says the writer Emily Nasrallah about herself. This modesty and connection to the land is one of the most evident traits one notices upon sitting down to talk with Nasrallah. But she might also point out to a cupboard, all full of books that she has authored—books that have impacted readers in Lebanon, and that have touched people from around the world. On August 28, 2017, Nasrallah will receive the Goethe Medal for a remarkable body of work, in different genres, from novels to short stories, from poetry to autobiographical prose. And it is this expansive and remarkable oeuvre and her position on women's and human rights that makes one understand why Goethe would award Nasrallah with this honor— along with feminist publisher Urvashi Butalia from India, and historian Irina Shcherbakova, from Russia.
I am a Story
Speaking about her German readers, Nasrallah says that they regularly ask about her personal life, because as she states, "I am a story. We are from simple village and my family are peasants; I lived my childhood working in the fields with my family, planting, and harvesting olives and grapes."
Nasrallah was born in 1931 in the village of Kfeir in South Lebanon. "I put an effort into continuing my education," she says. She attended Kfeir's public school, and that meant that she had to repeat the third grade three times—for the simple reason that the school did not offer any classes after that level. When her family could not pay for her education, she wrote a letter to her uncle in the U.S., asking him to pay her school fees, which he did. Nasrallah thus became the first girl in her village to leave home to live and study outside the village. She attended the elite "International School of Choueifat," (also known as the Charles Saad school). To save money for her university education, she began working as a journalist, in the women's magazine, Sawt al Mar'a (Voice of the Woman), and in the political magazine, Al Sayyad, and as a teacher. And indeed, she was able to finish her university years with a degree in education.
She spent seventeen years working at Al Sayyad Magazine. After marriage, she left teaching, but she stayed in journalism, and she also dedicated time for her family. She continued to write fiction and non-fiction. She would find the time to write when she was done taking care of her house and family—with the help of someone who helped her with housework; and when she was working on a novel, she would designate specific times to write. She also talks about the tremendous support of her husband, who would always tell her "You are free, you do what you want, you write what you want," and he always encouraged her to write better. "Now he has passed away six years ago, after 55 years together," she says. Nasrallah has four children, and she would proudly talk about them and their accomplishments.
Writing Is an Act of Love
Nasrallah describes writing as an act of love. Her love of language and stories may have started with her grandmother, who would sit her on her lap and tell her stories— "she was the first storyteller," Nasrallah says. But the author also credits one of her maternal uncles, who initially lived in the U.S, but was diagnosed with Parkinson's Disease, and came to live with them when she was little. It was this uncle who gave the author her first taste for writing, asking her to write things, and to describe "who is this house for?" "who is this tree for?"
Before she turned six—which was the age that her school would permit her to enroll, she would hide under the window to listen to what the teacher was saying. Her mother would ask the teacher for her daughter to sit in class—"as long as you disappear when the inspector comes," she laughs.
But it was the deep sadness she felt when her siblings immigrated that she wrote her first novel, Birds of September, published in 1962. She remembers how the pages were soaked with tears when she finished writing. Nasrallah would explore themes of immigration, war, women's rights, and social issues in her novels, short stories, and personal writings. And she would write for a wide audience that included adults and children. In What Happened to Zeeko, Nasrallah channeled the perspective of her daughter's cat, Zeeko, and its life with the family, until their house was bombed in 1982. In Flight Against Time, she wrote about an older couple from the village who travel to Canada and New York, and experience alienation from the language and the way of life, and a different relationship between people, and to the land and environment. In Min Hasad al Ayyam-- or From the Harvest of the Days, a collection of articles in three parts, Nasrallah reflects on a multitude of social and cultural issues, from violence against women, to women poets and politicians, her village, life in Beirut and its artistic perseverance, to immigration, among other topics.
Yet it is her writing about immigration that she is most known for. And it is something she recognizes as well: "It is something I lived through… and I wrote a lot of novels all against immigration," she explains, as she quotes her grandmother: this is "the land that does not hold its people."
I Stood by Women
Although Nasrallah does not identify as a feminist herself, she states that "no doubt in my writings I have stood by the woman to save her from some of the suffering she had experienced in our society." Calling attention to the discrimination women face, starting from within the family, she declares, "I wanted women to be equal to men… I lived, I grew from a peasant woman in the fields to elite schools, and I saw that women can advance" when they have opportunities. Nasrallah explains that she does not preach to women, because women know themselves and their areas of work, but she stands against injustice. And she acknowledges that her love of justice, of women's and human rights, is something that she has inherited from her family—to value every person, irrespective of who they are, where they come from, and the work that they do.
Gratitude
It is no doubt that Nasrallah's work has made an impact, as her books are widely read around the world, and they are taught in many schools in Lebanon. But she also has a strong connection to her German readers, a mutual admiration that started in the 1980s and continues to this day. She believes that German readers have been very interested in her writings. And she keeps in touch with them through the seminars that she attends, but they also attend discussions and talks in Lebanon, she explains, through committees that organize "cultural tourism," and people always visit her and inquire about how she wrote her books. They are interested in stories about women, and in her personal story.
And so it is that this willful and generous woman from the village of South Lebanon, with a deep love of the land and a strong sense of responsibility and justice, is now being honored by the Goethe Institute. She is grateful for the Medal, although as she states, she does not work for the reward, but for the love of writing: "Just as a rooster has to crow," she says smilingly, "so we have to write."