For decades, Myanmar was among the most isolated countries in the world. Although the process of democratization and the internet have changed things, people still cannot express themselves freely.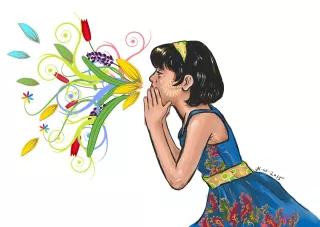 This article is part of our special on Digital Asia.
At the turn of the new millennium, there were many discussions about how emerging technologies were bringing people from different countries closer together. Whereas for many the world had transformed into a "global village," Myanmar remained a village cut off from the rest of the world by its military dictatorship. Unfair laws and strict limits imposed by government authorities isolated Myanmar and prevented it from participating in global developments. The dictators who erected these barriers kept Myanmar's citizens ignorant of the radical social and political changes that were occurring elsewhere in the world.
Yet, young people in Myanmar, who were brought up in the new electronic information age, used information technology as a "drilling machine" to view these changes beyond their borders. They then realized how much Myanmar was lagging behind and shared their knowledge with other citizens.
Restricting technologies creates invisible walls
Thanks to the spread of information via the internet, they were able to share with the international community what was happening in their own country. However, this was a dangerous venture. Most websites – notably those of exiled media such as the BBC, VOA, RFA, and DVB (Democratic Voice of Burma) – had been banned under Myanmar military rule. Watching exiled TV media companies via satellite dishes was also forbidden.
Many people were only able to use the email service officially provided by the former junta government. The use of other email services, such as Gmail and Yahoo Mail, was prohibited, as was the registration of blogs under these email services. Anyone who violated these bans risked imprisonment.
In 2004, the government created a legal basis for these moves with the Electronic Transactions Law, which handed down severe punishments for citizens who communicated with the world using technology and the internet. Section 33(a) of the law threatened dissidents with seven to fifteen years in prison for conducting anti-government activities online.
After a series of political and economic protests and demonstrations led by Buddhist monks in 2007, which came to be known as the Saffron Revolution, the junta frequently used this law to punish political activists in 2008. Many politicians were imprisoned for several terms and thereby silenced. For example, the 88 Generation student leaders – Min Ko Naing, Ko Jimmy, Htay Kywe, and Ko Ko Gyi – were each sentenced to 60-year prison terms on four charges.
Similarly, the famous comedian Zarganar was sentenced to a 45-year prison term on three charges. Among many others, I was also sentenced to a 20.5-year prison term. Under Section 33(a) of the Electronic Transactions Law, charges were pressed against me for my online blogging. However, I am certain that my participation in the Saffron Revolution as well as my connections to the 88 Generation played a part in my arrest.
The change of government stimulated freedom of expression
Thanks to the great efforts undertaken by Myanmar citizens, freedom-loving foreigners, international organizations, local and foreign activists, and the media, Myanmar began to change in 2008. The junta held a referendum to approve the "2008 Constitution," and a multi-party election was held in 2010.
However, the main opposition party, the National League For Democracy (NLD), did not participate in the election because its leader, Daw Aung San Suu Kyi, was still under house arrest. Instead, the Union Solidarity and Development Party, which was comprised of many retired military generals, won the majority of parliamentary seats.
With the new government having moved away somewhat from the strict measures of the "old days," policy changes began to appear in 2010 and the government began to loosen its grip on some parts of society, despite the fact that the top government officials in 2010 were the same ones as in the previous period. During this time, big changes were also being implemented in the information and communication technology sector. Formerly banned websites were unblocked.
Bloggers no longer had to use proxy sites to access blogs. A new era of digital freedom began and Myanmar citizens could open two or three different Facebook accounts without fearing persecution. The cost of a SIM card fell from about $3,000 to $1.50. People started buying mobile phones and no longer needed to use public phones. Furthermore, privately owned media emerged in Myanmar. Even formerly exiled media organizations returned to the country. After a long time, Myanmar citizens were able to enjoy the first tender buds of freedom of expression.
Countering hate with "flower speech"
Although the government officially granted its citizens free access to the internet, and privately owned companies were allowed to run their own media channels, the government remained very critical of the media. Journalists were still being treated like criminals, and the government even adopted a policy to fight media with media. Strict limitations were imposed, freedom of expression was misused, and hate speech spread.
Before and after the 2012 by-election, in which Daw Aung San Suu Kyi was campaigning for a parliamentary seat, sectarian violence was provoked by some posts on social networks, with some people inciting violence by disseminating false rumors. It is alleged that there were some groups that systematically misused websites and social networks to stir up hatred. Community-based organizations and young activists, who began viewing hate speech as a threat to freedom of expression, launched the Flower Speech (Panzagar) campaign.
Their aim was to create awareness that the moderation of speech could prevent hatred among people. They understood that freedom of speech was not equivalent to the "freedom to swear" or insult somebody. Panzagar is thus a movement informing people that there should be a corresponding responsibility for every right, and it urges people not to use hate speech. Many people felt deeply insecure due to the distrust caused by hate speech. As a reaction, people of every age offered active cooperation with Panzagar.
As a result, the movement spread across the country. Panzagar even cooperated with Facebook to create the "Comment Sticker Pack," which is the first ever Myanmar-language anti-hate-speech sticker pack. Because of the Panzagar movement, people came to understand that hate speech creates dangers and can quickly proliferate, both on social networks and in the real world.
When the NLD won the election in 2015, there were great hopes in Myanmar that citizens could finally practice freedom of expression and access information without any further restrictions. Since I also won a parliamentary seat as an electoral candidate, I witnessed how high people's expectations were of the NLD. These expectations pose a huge challenge for the new government.
There is a palpable yearning for more freedom of expression, which has, to an extent, been realized: Privately owned newspapers and journals have emerged, and TV licenses have been granted to private organizations. U Htin Kyaw, son of the famous writer Min Thu Wun, became President of Myanmar, and the respected writer U Pe Myint became the Minister of Information. In addition, journalists and literary communities have become more active.
Still a long way to go
Whatever the changes, it must be admitted that there are still limitations, challenges, and threats. For example, some people still have a hard time tolerating online criticisms and make use of Section 66(d) of the Telecommunications Law – a provision that criminalizes ill-defined, online defamation – to sue each other. So far, there have been 77 cases filed under Section 66(d). Only seven were filed under the previous government, with the remaining 70 being filed under this new government.
This shows that even though people in Myanmar have achieved a degree of freedom to express that which was formerly unimaginable just a few years back, Section 66(d) is still a huge obstacle to expressing opinions. It is a shame that freedom of expression and internet freedom are being curtailed in such a way.
Although the parliament submitted a bill recommending amendments to some of the severe penalties under the Electronic Transactions Law in August, real freedom of expression in Myanmar can only be achieved if new laws, such as a Right to Information Law, are drafted to ensure further freedoms. Furthermore, the executive branch has to avoid doing things that can harm freedom of expression. In simple terms, focusing on freedom of expression as a fundamental value and acting accordingly is the best way to achieve the vision of creating a democratic federal union.
Although, on the surface, it appears that much progress has been made over the last decade, we must consider various points of comparison when discussing freedom. Of course, compared to 1988, when the pro-democracy movement began, Myanmar's development has been astonishing, but it still lags far behind when compared to standards in developed nations. Whatever the comparisons, one of the great hopes of citizens is that the situation will not worsen, even if it does not improve. The goal is still far away and the roads are still rough, but we have to believe that we will reach our goal someday, and we must highly value our freedom and move united through this transition.
This article is part of our special on Digital Asia.