Background
At the beginning of 2020 it looked as if the Greek economy would recover with above average growth from 10 years of financial crisis.The corona pandemic has shattered these prospects. Greek society is now hoping for support from the German Council Presidency.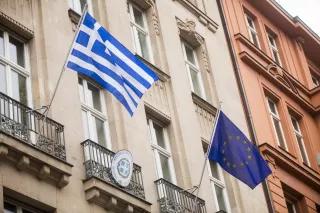 Germany assumes the EU Council Presidency in midst of the biggest crisis ever for the EU. Prior to the crisis, the German government laid its cards on the table. It wanted to advance an innovative Europe with a gradual transition to a green economy (European Green Deal); energetically promote digitization, and finally find agreement on a new common foundation for migration and asylum policy with the other EU members. In terms of foreign and trade policy, the plan was to redefine EU relations with the United Kingdom, the US, and China to ensure the continuation of multilateralism and free trade. In fall, an EU-China summit was supposed to set the direction for how the EU and China want to realign globalization. Finally, Germany seemed to be willing to stop acting as a brake and instead assume the role of mediator during negotiations over the upcoming EU budget. It signaled a commitment to increasing the EU financial framework.
And then the COVID 19 pandemic hit. It threw the EU into unparalleled public health and economic crises. Even beyond that, the pandemic has knocked the entire world into a state of shock. The coming months and years will see a global economic crisis that will challenge the liberal global trade regime which has fostered peaceful cooperation through economic interdependencies since the end of World War II. This in turn will also test the model of multilateralism favored by Europeans.
Post-pandemic framework conditions
The pandemic seems to be accelerating social and economic trends that have been visible for years. Economists like Nouriel Roubini or Dani Rodrik anticipate a further escalation of the US-China trade war which will speed up the de-coupling of the two economies. In response, more and more countries will adopt protectionist policies in order to shield their economies from global distortions. Furthermore – even at the expense of higher cost and lower profits – there will be a relocation of production facilities to targeted markets to secure supply chains. The post-pandemic world will be characterized by a decline in international division of labor; constraints on the freedom of movement; and increased restrictions on the exchange of goods, commodities, services, capital, human resources, technologies, data, and information. It is not just populists and populist movements that demand reversing globalization. Climate change and a fragile finance industry will cause major disruptions of the global economy with greater frequency. Reshoring production facilities and establishing "more robust" supply chains within networks of politically friendly and reliable countries seem to be more sustainable than the efficiency-based offshoring that the world has seen since the 1990's. (The Trump Administration is planning to set up an "Economic Prosperity Network" which is supposed to serve the same purpose.) Rating agencies are already starting to factor resilience into their evaluation of companies, along with climate protection, supply chain security, and participation in a reliable network. On a political level, the new cold war between the US and China as well as the conflicts with other challengers like Russia, Iran, and North Korea undermine multilateralism. A much more conflict-prone, multipolar order of competing big and middle-sized powers is rapidly approaching.
Europeans must decide how to respond to these conflicts and developments. Do they want to become a big power in a multipolar world order, utilizing all available means to aggressively pursue geopolitical goals? Or do they want to stick to the rule-based, multilateral world order and try to secure it through alliances or networks of smaller states and communities of states (e.g. ASEAN)? [1] This is a pivotal moment for the EU. It was founded on the conviction that geopolitical rivalries can be tamed by economic integration and that economic interdependencies and free trade are not a zero-sum game but mutually beneficial. Its purpose was to promote peaceful cooperation and prevent a relapse to the economic nationalism of the 1930's and its devastating consequences.
Even though it might not be an existential issue for the EU, the major trends that are likely to develop in the post-pandemic world do rock its basis of existence. Europe must devise strategic sovereignty in relevant areas and further develop its internal rules. The relationship between the economy and government, as well as the relationship between globalization and national and regional self-sufficiency, need to be rebalanced if the EU wants to gain more resilience in an ever-changing world. Against this backdrop, German ambassador to the EU, Michael Clauß, recommends that the German government completely revises its strategic priorities for the EU Council Presidency.  He notes, "the focus should be on the European institutions' ability to act, crisis management, exit and reconstruction, and potentially the preservation of EU integration as such".
Expectations of the German EU Council Presidency from a Greek perspective
When Federal Chancellor, Angela Merkel, said, "Strengthening the EU and supporting those member states that have been hardest hit by the pandemic is not just a matter of solidarity but is also in Germany's own interest", she was getting to the heart of what is often obscured by moralizing rhetoric. The EU is less about solidarity obligations than vital interests. It is not a secret that preserving the big European single market and its expansion to the East and Southeast is of major interest to Germany. Currently, the European market accounts for merely 40 % of German exports. This share could increase if world trade declines – provided the other EU members are financially able to import. In light of the evolving global frameworks, it is clear that Germany has a huge interest in preserving and stabilizing the EU. If necessary, it is probably willing to make concessions and greater financial contributions to achieve this goal.
Given these circumstances, what can the Greek government and Greek civil society realistically expect from the German EU Council Presidency in the second half of this anno horribilis 2020? And what is the starting point of Greece's expectations of the German Council Presidency?
Fair compensation for pandemic damage – not competition between victims
At the beginning of 2020, it seemed that the Greek economy (above-average growth) and the Greek government (borrowing at favorable conditions) were slowly recovering from the difficult ten years following the financial crisis. But the pandemic is a double setback for Greece. The government and public managed to tackle the pandemic much better than other European countries - at least in the first stage - and the country has suffered fewer deaths. The government intervened very early and the public showed great discipline. Yet, Greece risks becoming the real loser of the pandemic. The direct economic losses after more than two months of shutdown and  economic standstill are comparable to those of other EU members. However, they will probably deteriorate in the course of the year. This has to do with the well-known weakness of the Greek economy: high government debt leaves very little fiscal room for government stimulus packages. The structural weakness of the Greek business sector is that it is dominated by tiny and small-sized enterprises that do not have liquidity and cannot secure loans. Many of them will ultimately go bankrupt. Also, the banks are again at risk. Non-performing loans still account for more than 40% of the total on their books and they now fear that this EU record-high number (EU average: 3.2%) will increase even further.
Greece's political economy – like most other Southern EU countries – relies on domestic consumption. It accounts for 70% of GDP and has been the key driver of the past two year's economic growth. Apart from refined products, the most valuable 'export' is tourism. Altogether, year-round tourism-related employment accounts for approximately 30% of GDP. If you include seasonal jobs, it goes up to 40%. Hence, Greece, like Croatia, is extremely tourism-dependent. Income from tourism – 18.2 billion Euros in 2019 – keeps the Greek balance of payments deficit within tolerable limits. Furthermore, in recent years tourism generated more than 50% of the growth of GDP. There are fears that without a robust summer season, Greek unemployment could exceed the 22% forecast by the OECD and IMF.
While losses are mounting up in Greece, the European public is focused on the dramatic images of collapsing health care systems in Italy and Spain. It seems to be readily willing to translate the high excess mortality rates in those countries into financial neediness. Italy, Spain, and even France - but not Greece - are the main focus of interest when trying to figure out how to help those countries hit hardest by the pandemic. Small Greece – a lower potential threat for the EU than Italy and whose economy is less relevant for Germany - is at risk of being marginalized. Greece needs and expects support from the German EU Council Presidency to avoid such marginalization. 
The following issues at European level will be of particular importance for Greece in the coming weeks and months:
Financial support for overcoming the lockdown  
The government of Prime Minister, Kyriakos Mitsotakis, joined the initiative of nine EU members in support of Coronabonds as an opportunity to protect Greek interests. As the European bonds would not be attributed to the public debt of the already highly indebted countries, they would increase their fiscal flexibility. It is estimated that without joint bonds or transfers, Italy's debt ratio would rise to 150% of GDP and Greece's to 200%.  This would invite speculation against these countries and thus against the Euro.
Countries which have opposed the introduction of eurobonds from the very outset, like Germany and Austria, have again rejected this approach. Without reasonable compensation, however, economic inequalities in the EU will increase. Whereas Germany is able to invest about 7% of its GDP to support its economy, Italy and Spain can only afford approximately 1%, Greece even less than 1%. The competitiveness of countries without financial flexibility will go down while their debt will go up. Without Euro- or Coronabonds and/or a European transfer system, consumption-dependent Greece sees itself at a competitive disadvantage in the Eurozone. Hence, the further development of the European Monetary Union into a Fiscal Union is in the interest of Greece. It is expected that Germany will eventually get onboard as well because of its own interest in preserving the EU and the Euro.
Common migration and asylum policy  
The pandemic crisis has pushed the tragedy of the European migration and asylum policy and the unresolved conflict with Turkey into the background. The attempt by the Turkish government after the outbreak of the crisis to blackmail the EU by unilaterally opening its borders with Greece for refugees shows that conflict can be further aggravated. At the same time, Greece is expected to act as watchdog and enforce the closure of EU's external borders by military and other deterrence measures. With the exception of some pockets of support in the Nea Dimokratia party, Greek society can no longer tolerate this situation.
Against this backdrop, Greece urgently needs a common asylum policy. The government expects the German Council Presidency to advance a meaningful compromise that reduces the burden of the current deterrence-focused asylum and migration policy. The key is a reliable redistribution of refugees to multiple countries as well as meaningful compensation payments by EU member states which refuse to receive refugee. A compromise agreement with Turkey that sufficiently recognizes their special needs is also in Greece's interest. It is to be hoped that the daily provocations at the land, air, and maritime borders will thereby be stopped.
Like most EU member states, the Greek government is not seeking a fundamental change in refugee and migration policies. This is clearly different from the demands of Greek and international NGOs that work in Greece. They demand immediate relief of the overcrowded, inhumane refugee camps on the islands in the Aegean Sea. They call for compliance with European asylum standards and the respect of basic rights of refugees in Greece and the whole of Europe. 
Joint security measures to boost tourism
In order to rescue the summer season, it is crucial for Greece that there be quick agreement and implementation of transparent, Europe-wide criteria for the free movement of people, air traffic, and common health protocols. On June 15th - earlier than originally expected - the Greek government declared the official start of the summer season hoping that at least parts of their tourism sector would be utilized.
Which groups can Greek tourism count on? Declining household income will make it hard for many Greek families to spend their summer at the beach as usual.
Whether guests from Central and Northern Europe will visit is primarily a question of how many people will be able to afford a holiday due to unemployment and short-time work which are rampant across Europe. Secondly, it is a matter of agreeing on European security standards for travelers at hotels and for minimum distance rules at beaches.
There are many reasons to believe that the resolve of the Greek government during the pandemic was at least partly motivated by the desire to rescue the summer season. It now wants to take advantage of the mild course of the pandemic and the very low number of new infections. Other heavily tourism-dependent countries, like Italy and Spain or Turkey, seem to be less attractive destinations by comparison. It is, however, becoming apparent that individual EU member states intend to conclude bilateral agreements with holiday destination countries that disadvantage Greece. Such agreements could promote travel by car as opposed to air. On a practical level, Greece can only be reached by land from the financially weak Balkan countries.
The choke point for long-distance tourism to Greece is air traffic. It is crucial to develop European aviation rules that guarantee economic viability for airlines and protect tourists and Greece's citizens from new infections. People in Greece also fear that tourism might bring new infections to the country. To prepare for this, the under-resourced health care system has been reinforced slightly over the last months. Additional testing, patient transport, and treatment capacities are currently being established - particularly on the islands which are typically the destination of the largest tourist flows. 
European Green Deal
The European Green Deal could absorb a big share of European transfer funds and, with conditionalities, pass them on to EU member states. The Greek government's expectations are probably ambivalent. On the one hand - with the expectation of European financial compensation - it announced the phase-out of lignite open cast mining and inefficient lignite-based electricity production. On the other hand, it still clings to plans to explore on- and off-shore oil and natural gas reserves (including in natural preservation areas) despite knowing that given the current world market prices for fossil fuels, these projects are unfeasible and probably never be carried out.
The Greek government shows little interest in the green transformation of the Greek economy. The European "Green Recovery Alliance" advocates green investment packages for post-Corona economic recovery and wants to see the fight against climate change and the preservation of biodiversity embedded as important pillars of an economic strategy. The Greek environmental minister has refused to participate.  This is directly in opposition to the expectations of Greek civil society organizations which are committed to climate protection and a fair energy transition. They demand a green transformation, i.e. expanding renewable energy sources and developing a closed-loop economy. At a European level, they demand the adoption and rigorous enforcement of the planned climate law - despite the resistance of European commercial interests (cf. letter of the European Business Alliance to Vice-President Timmermanns). This law would expand the EU emissions trading system to all sectors and generate investment capital by selling emissions allowances. These funds would be distributed through the EU Budget as grants for a green transformation.
Towards positive EU integration through a resilient social union
So far, Greece has managed to avoid the disastrous health care situations of France, Spain, and Italy. This was possible not because of a robust health care system but because of the fear of a severely weakened health care system. The country lost crucial human resources as 18,000 doctors and countless nurses had left the country over the last 10 years. They cannot be quickly replaced with money.[2] The fear of having to go to hospital and of not getting an ICU bed - or any  bed - motivated people to behave in a very disciplined manner and comply with most of the very strict government measures.
The EU recently adopted an emergency plan to strengthen health care and to pay 'short-time' salary subsidies as an alternative to dismissal. Greek civil society welcomed attaching conditionalities to ESM funds (as demanded principally by the Netherlands) that ensure health care systems are the primary beneficiaries. The same applies to 'short-time' allowances. Both are urgently needed in Greece. Moreover, the emergency plan signals a possible paradigm shift in the EU away from negative market integration (Fritz W. Scharpf), that simply removes market and competition barriers, towards a social union that provides public goods to its citizens.
Greek civil society also strongly welcomes the EU initiative to promote the development of a vaccine as a global public good. They support standing up to the neoliberal policy of privatization and commercialization that closes the 'knowledge commons' and leaves people - even in prosperous societies - without medication in emergency cases. In this context, there is an expectation that the German Council Presidency will keep the strong reservations of the German Chancellor's governing party (regarding a fiscal and social union and the associated inner-European transfers) under control and that it will indeed initiate this paradigm change.
---
[1] See interview of Reinhard Bütikofer on Fokus Europa Podcast No. 35 "Europa in der Welt" (in German).
[2] According to the Organization for Economic Cooperation and Development, Greece spends 1,623 euros per capita per year for health care; this is a bit more than half of the EU average of 2,884 euros and about one third less than before austerity and privatization policies during the debt crisis. Moreover, one third of this expenditure for health care is paid by private households. This is the highest rate in the EU and an extreme example of EU-funded privatization of public services during the financial crisis.