Interview
Mary Afan, president of the Small-Scale Women Farmers Organisation in Nigeria (SWOFON), talks about the impacts of the COVID-19 pandemic on small-scale farmers, the government's response, and what could be done to help them weather the crisis.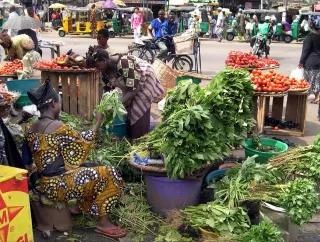 Although Nigeria is popularly known as the largest oil producer in Africa, agriculture remains the base of its economy. Nigeria's agricultural sector employs two-thirds of the country's labour force and accounts for about a quarter of the gross domestic product. Small-scale women farmers contribute significantly to local food production and constitute over 60 percent of the agricultural labour force.
Mary Afan, president of the Small-Scale Women Farmers Organisation in Nigeria (SWOFON), took some time out to talk to us about the impacts of the COVID-19 pandemic on small-scale farmers, government's response and what could be done to help them weather the crisis.
What has been the impact of the COVID-19 pandemic and related restrictions on small-scale farmers?
The lockdown instituted by the government at the end of March came as a shock to small-scale farmers in Nigeria. The fact that movement restrictions were indiscriminately implemented by security operatives across the country meant that many farmers could not get to their fields. Farmers' access to markets also was severely disrupted. As most small-scale farmers do not have storage facilities, they had to watch their fruits and vegetables spoil, or sell them off for cheap to unscrupulous middlemen.
Even after the lockdown was eased, we received numerous reports from our members about harassment at police and military checkpoints. Women farmers were particularly vulnerable to this. Where farmers refused to pay bribes, security personnel seized or destroyed their produce. This atmosphere of harassment and intimidation on the roads also discouraged many of food transporters from operating. The transporters willing to pay bribes passed their additional costs on to farmers. 
In addition to their loss of income, farmers have to deal with increasing prices for agricultural inputs such as fertilizers, herbicides and seedlings because the lockdown also affected the import and transportation of such goods. For instance, the fertilizer I purchased for my farm at NGN 7,500 a bag just three months ago, is now sold for NGN 17,000.
How has this impacted on food prices in the market?
Food has always been a major driver of inflation in Nigeria but due to COVID-19 food prices have spiked. This could have been avoidable if the lockdown was implemented in a more sensible manner. Regardless of the impact of COVID-19, we have to create more direct linkages between farmers and the market and cut out the middlemen who have too much power over producers and consumers alike.    
For now, we may face a dire situation where some small-scale farmers will soon be forced to go to the market to buy food.
How has the government responded to the challenges in the agricultural sector?
Even though the government announced mitigating measures, these often have meant very little in the lives of small-scale farmers. For example, soon after reports about the negative impacts of movement restrictions on agriculture made it into the public, the federal government declared agriculture an essential service that should be allowed to operate freely. The Ministry of Agriculture and other relevant government agencies started to issue clearance passes, but these never reached small-scale farmers. Government extension workers, who could potentially have distributed them, were nowhere to be found during the lockdown period. Meanwhile, extortion by police and other security forces on road continued.  
While government ran support programmes in the cities, nothing of comparable scale has reached poor rural communities. We were hoping that small-scale farmers would be given farm inputs as support but this has hardly happened.
The financial support schemes for agricultural businesses offered by the Central Bank of Nigeria are difficult to access for small-scale farmers. The process requires online applications forms to be filled in a country where many rural communities still do not have access to the internet, or even electricity. Many small-scale farmers have no formal education.
But even when we assume that the majority of small-scale farmers could scale these hurdles, the requirements to get funding approved can never be met by small-scale women farmers in particular. For instance, requirements like land titles as collateral are impossible to meet as tradition and culture does not allow women to own land in their names. In many instances, when women want to buy land, they must have a male present.
How could the government adjust its response to meet the needs of small-scale farmers?
Organisations like the Small Scale Women Farmers Organisation in Nigeria have effective structures, reaching a large number of small-scale farmer organisations and individual women farmers in remote villages. Government should collaborate with organisations like ours for the dissemination of information and the distribution of much-needed input supplies.
Some states like Kogi, Niger, Jigawa and Kaduna have started to positively respond to our calls for free and subsidised agricultural inputs. The federal government and other states should follow their lead.
The central bank needs to revisit the requirements attached to its agricultural credit schemes. As it stands, these schemes favour male-owned, large scale farming operations. They need to consider the realities of the sector, which is dominated by small-scale women farmers. 
Other than these immediate measures, we need to address the issue of food storage and processing at farm level. Currently, small-scale farmers are often forced to sell their produce in a rush at very low prices to middlemen.
From the perspective of women farmers, in particular, land remains the most fundamental issue. We need both government and traditional rulers to make efforts to ensure that women have access to, can own and inherit land.
All of this taken together would not just translate into taking many rural women farmers out of poverty, but also help to improve food security in the country.
---
The Small Scale Women Farmers Organization in Nigeria (SWOFON) is a coalition of women farmers associations and groups across Nigeria. The network's goal is to promote women-friendly agricultural policies and women's access to land. To achieve this, SWOFON organizes and empowers women farmers to engage policymakers and other development stakeholders on their needs.