Project
The circumstances of the COVID-19 pandemic have disrupted the striving of women and LGBTIQ+ activists worldwide for equality, security, and freedom. The Global Feminist Pitch 2021 introduces eleven feminists from Malawi, Brazil, Lebanon, Somalia, Bosnia and Herzegovina, Nepal, Morocco, and India who will pursue nine projects on feminist resistance and resilience on social media, within the context of the COVID-19 pandemic. Their Global Feminist Pitch projects will include blogs, websites, podcasts, as well as Facebook, Twitter, and Instagram pages.
Meet our Selected Feminists:
Diana Nkhoma, Malawi 
Diana Nkhoma is a multi-discipline digital content creator based in Malawi. She is passionate about digital storytelling with a special focus on sharing the African perspective. When she is not creating original content for her online community, she is producing and collaborating with other creatives around her for causes she cares about.
Diana's Global Feminist Pitch is a project named To the Streets, a project that uses visual storytelling to highlight advocacy work being done by Malawian Feminists online and beyond.
---
Ester Pinheiro, Brazil
Ester Pinheiro is a journalist from Brazil. She is interested in gender studies and communication, and has studied the Power and Media MOOC from 'Chicas Poderosas' and the intensive course (CPD) on gender and media representation at the University of Strathclyde. Ester has worked in various journalistic formats and covered three global sporting events. The last was the 2019 Women's World Cup where she worked for FIFA and for media in Brazil. She works as a public relations consultant and digital communications assistant, and is contributing as a writer for feminist magazines in Latin America. Ester has been approved for the Master in Gender Studies at the Complutense University of Madrid and was chosen for the Global Feminist Pitch to develop a podcast and Twitter page called Feminismos del Sur, which will focus on various types of women from Latin America and their resilience and resistance within the pandemic.
---
Islam al Khatib, Lebanon
Islam al Khatib is a Palestinian feminist based in Beirut, Lebanon. She is interested in exploring themes of grief, satire and participatory media culture as forms of feminist resistance. Her Global Feminist Pitch 2021 project entitled Quarantine Memes-ories: Feminist Memes Exhibition focuses on feminist memes as a movement-building tool amid the COVID-19 pandemic. You can follow her work on Twitter and Instagram.
---
Farah Abdi, Somalia
Farah Abdi is a 25-year-old Somali transgender woman, refugee, feminist, journalist, blogger, author, researcher, human rights activist, motivational speaker, and youth education advocate. She fled home in 2012 due to fear of persecution because of her gender identity. She now lives in Berlin, Germany.
For the Global Feminist Pitch, she will be working on documenting the stories of transgender refugee women from the global South and East, who have found themselves in Berlin after being displaced from their native countries. She will also collaborate with the Foundation on a workshop on how transgender women fit into the modern feminist movement.
---
Selma Alispahi

ć, Bosnia and Herzegovina
Selma Alispahić is a 26-year-old feminist from Sarajevo, Bosnia and Herzegovina. She obtained her Master degrees in Philosophy and Sociology at the University of Sarajevo and is currently studying at the European Regional Master's Programme in the field of Democracy and Human Rights at University of Sarajevo and University of Bologna.
For the Global Feminist Pitch she will create a Facebook and Instagram page with the main goal to counterbalance discriminating, sexist and intolerance-spreading forces on the internet and in the society, and to act as a corrective through empowering women and men to recognize, criticize and fight sexism. Using these social media platforms, the project will start a public debate about sexism and identify the examples of sexist attitude and behavior in media, politics, and everyday speech.
---
Jesselina Rana, Nepal
Jesselina Rana is a human rights lawyer/researcher, social impact entrepreneur and feminist activist based in Kathmandu, Nepal. Rana founded the social media activism page @nepalifeminist in 2017 and has been enthusiastically lobbying for intersectional feminist issues in Nepal since then. She also co-founded a menstrual health focused social enterprise called Pad2Go and was recognised as Forbes 30 under 30 Social Entrepreneurs, 2020.  Jesselina's Global Feminist Pitch project The Rhod Not Taken through her page on Instagram aims to interview activists and talk about issues within the larger feminist movement that are often hushed as a result of stigma attached to them. The unique journey of each feminist activist strengthens their activism, capacity and knowledge. Amplifying voices of activists and their unique journey will not only help in enriching the movement but have a domino effect in positively influencing others to take a stand.
---
Imane Lakbachi, Morocco
Imane Lakbachi is a nonprofit leader and activist from Casablanca, Morocco. She is a Gender Equality Advocate at the Swedish Institute, the Country Coordinator of Morocco at IYAFP, a Young Leader at Women Deliver, and a Contributor to the Common Future Conversations at Chatham House. Imane graduated from Institution Poly Informatique with a B.S. in Computer Science and is also a NASA International Space Apps Challenge Award Winner and a Udacity Tech Scholar.
Imane's Global Feminist Pitch idea is to use storytelling as activism against gender-based violence in order to raise awareness amongst the general public, break social norms, promote discussion and reflection around key topics like the obstacles faced by women and girls when attempting to report violence to law enforcement officials, victim-blaming, revenge porn, menstruation, virginity, and harmful stereotypes. To do so, she will build a website and launch social media campaigns focused on Instagram.
---
Deepa and Arundhati Sridhar, India
Deepa is a feminist social worker from India. She has worked with young women from different parts of the country, organising and mobilising on feminist human rights agendas for about five years. She has a Master's in women centric social work from Tata Institute of Social Sciences, Mumbai. A poet and storyteller by passion, she indulges in multiple platforms for organising literary events at local and state level. She currently works with young people in Northern states of India towards building grassroots youth led movements with intersectional feminist perspective.
Arundhati (she/her) is a feminist activist, practitioner and facilitator with nearly seven years of experience in organising and mobilising around women's human rights at the grassroots in Western India. With degrees in History and Sociology from the University of Delhi, she dabbled in travel writing and sports journalism for a few years, and brings her passion for stories into her work with gender and movement-building. She currently works with organisations across India to build intersectional feminist perspectives and programs, including evidence-building through research and advocacy. She speaks six languages and hopes to learn Indian Sign Language soon.
For the Global Feminist Pitch, Deepa and Arundhati will work on a podcast, Fursat Feminism, which was launched in March 2021. The podcast will be the embodiment of their shared love for accessible feminist spaces that can hold intersectionality, vulnerability and warmth. Fursat, in Urdu, translates to leisure - and it captures the spirit of the undertaking: can we unshackle feminism from academic and development silos? This is also specifically an attempt at infusing the podcasting space with more South Asian feminist voices. Every week, people who identify as feminists come on to speak about their own journeys of feminism as seen through specific themes like care, anger, sex, pop culture, friendship, etc. Eventually, the hope is for the podcast to become an anthology of dreaming, living, and navigating feminist realities in South Asia. Fursat Feminism is available on Spotify, Apple podcasts, Google podcasts and every other podcasting platform. You can also follow Fursat Feminism via Instagram.
---
Jo Krishnakumar and Mrinalini Godara,

India
Jo Krishnakumar ia a PhD researcher (Anthropology, SOAS University of London) and activist who is working at the intersections of the queer, trans and sex worker movements in India and the UK. Their most recent research and advocacy initiatives include Transform, a pedagogical tool that maps violence against trans people with a focus on India and Almaarii, a project about (the lack of) space and closets in South Asian Queer Communities.
Mrinalini Godara is a researcher, activist and artist who routinely takes up awareness and access oriented developmental projects emphasising environmental sustainability or amplifying the voices of women and the LGBTQIA+ community in India. She is currently working with Jo on Transform, a pedagogical tool aimed at mapping the scope of violence faced by transgender people of South Asia.
Meet our selected feminists for the Global Feminist Pitch 2021 as they talk about their project ideas and how the Global Feminist Pitch has helped to implement them:
Global Feminist Pitch 2021 - Heinrich-Böll-Stiftung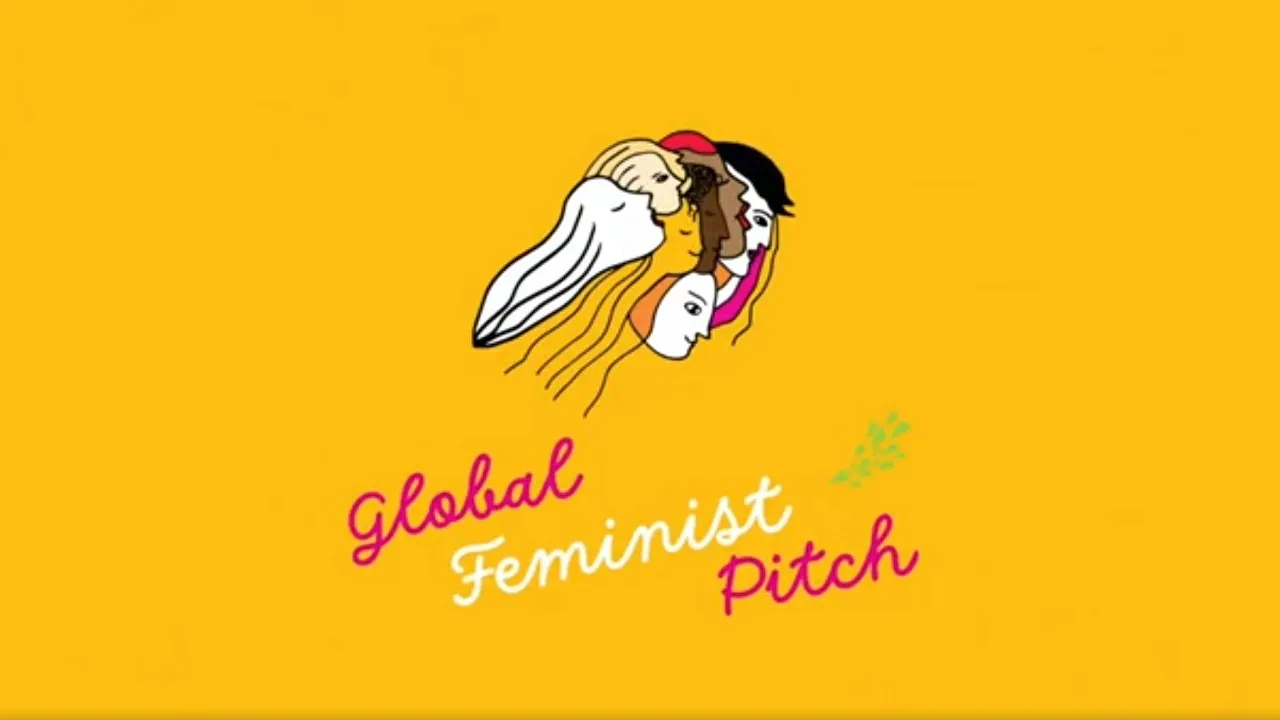 Watch on YouTube