Call for Application
The Global Feminist Pitch is back to support feminists from Latin America, the Caribbean, Asia, Africa, Middle East and (South) Eastern Europe. This year we are looking for six feminists who will tell stories of feminists, feminist moments, and movements from their region in the form of short graphic novels. Apply now!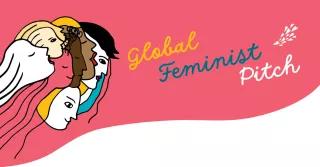 About the Project
The Global Feminist Pitch strives to make solidarities between feminists and feminist movements worldwide visible through different formats. In 2023, the Global Feminist Pitch will give six feminists from Latin America, the Caribbean ,Africa, Asia, Middle East or (South)Eastern Europe the chance to tell stories of significant feminists, feminist moments, and movements from their region in the form of short graphic novels (8-10 pages). In this process, they will be supported by the Global Unit for Feminism and Gender Democracy through a workshop and consultations. The finished short graphic novels will be published together as a publication at the end of 2023.
Find the full Call for Application here.
Read all about the Global Feminist Pitch 2022 and 2021 here.
---
Meet our Selected Feminists:
Helô

 D'Angelo, Brazil
Helô D'Angelo is an illustrator, cartoonist, and journalist from São Paulo, Brazil. She is the author of many comics published in different anthologies, and of four graphic novels: Dora and the Cat (2019), Tiny Self-Defense Manual (Bebel Books, 2022), In the Eyes of the Beholder (Harper Collins, 2022) and Isolated (2020) - the latter of which was a finalist for two big Brazilian comics prizes, HQ Mix and CCXP Awards. Helô's work is focused on political comic strips about human rights, daily life, and mental health. Helô also mixes journalism with comics; her most known journalistic work is Four Maries, a graphic report on the abortion laws in Brazil. Helô has published for many media websites, magazines, and newspapers, such as Le Monde Diplomatique, Huffington Post, and Folha de S. Paulo. Her art was also part of an exhibition at the Amadora Comics Festival (Amadora BD) in Portugal. She works as a freelance illustrator and comics artist, and publishes her comics for Development Alternatives with Women for a New Era (DAWN) and Brasil de Fato. For the Global Feminist Pitch she will draw the story of the first Indigenous minister of Brazil, Sônia Guajajara.
---
Kanza Naheed, Pakistan
Kanza Naheed is a self-taught artist from Karachi, Pakistan, with a background in corporate marketing. Having always been creative at heart, she illustrates as a medium of self-expression. Her work focuses on reimagining the role of women in Pakistan's patriarchal society, redefining stereotypes, all the while examining the toll that outer expectations (particularly active discouragement from society) have on mental health, especially for South Asian women. Her work on patriarchal violence for Aurat March 2021 has been featured in BBC Urdu, along with many South Asian Blogs. She was also selected to participate in the Episodic (Fiction) Screen Writing Workshop by the Goethe Institute. When she is not busy with the corporate sector or art, she dabbles in stand-up comedy, YouTube, and screenwriting. For the Global Feminist Pitch, Kanza will create a graphic novel on the Aurat March. You can follow Kanza's work on Instagram.
---
Nancy Chelagat, Kenya
Nancy Chelagat also known as a Chelwek, is a mixed media creative who oscillates between digital media and graffiti murals that she uses to promote social change within vulnerable communities in Kenya. Her biggest inspiration is the people of the African soil, the vibrance of the African story, the brilliance of the feminine thought, and the relevance of African spirituality. Her murals are spread in several countries around the world and continue to showcase the African essence to the world. Chelwek has created eccentric pieces founded on African mysticism and spirituality while espousing liberating feminism in her repertoire. Chelwek is inspired by life as her art embodies the life giving essence of every living being in this universe. She translates this essence into art forms that speak to her of the greatness of the universe and the space we hold as creative souls for the ones here and for those to come. For the Global Feminist Pitch, Chelwek will present illustrations of Kenyan feminist struggle for political and human rights in the last three decades, using the motifs of notable female freedom fighters, and political activists, set on the background of Uhuru Park, one of Kenya's notable spaces for democratic contestation.
---
Roshi Rouzbehani, Iran
Roshi Rouzbehani is an Iranian freelance illustrator, based in London, UK. Collaborating with clients such as The New Yorker, The Guardian, The Washington Post, and Amnesty International, Roshi creates editorial and portrait illustrations about social issues. She is passionate about gender equality, and women's empowerment is at the center of her work. Roshi has participated in many group exhibitions in Europe, the USA, and Iran, and her works have been featured in Creative Boom, Design Week, Middle East Eye, and more. She is the illustrator and author of the 50 Inspiring Iranian Women book. For the Global Feminist Pitch, Roshi will illustrate the Women, Life, Freedom movement in Iran.
You can follow her work on her website and Instagram.
---
Salomeya Bauer, Georgia
Salomeya Bauer is an artist and activist from Georgia. Displaced from Georgia in the earlier 90s due to the Civil War, she returned in 2014 and fully devoted herself to the art as a documentation of reality. She is a documentary filmmaker, performance artist, painter, and art tutor. Through video documentation and research, Salomeya's primary focus is on comprehending borderline states of mind and mental crisis. The basis of her creative method is documenting and analyzing the fluctuations of subjective reality and personal experience, woven into a historical spiral through painting and filmmaking. Each area of her activity contains improvisation and a performative basis. Salomeya's art pieces explore the opposition of the human and society in the context of separatism, integration, and the search for self-identification. For the Global Feminist Pitch, Salomeya will create a graphic novel on women in social processes in Georgia.
---
Selen Sarikaya Eren, Turkey
Selen Sarıkaya Eren is an illustrator and graphic designer from Turkey, based in Florence, Italy. She is passionate about the power of visual storytelling and social justice issues. She regularly contributes to the feminist platform Lazy Women with illustrated articles on body image, voluntarily and happily childless women, and the effects on urban planning on women's day-to-day lives. She hopes to connect her illustration practice to research of illustration in protests and social movements. Artistically, she is inspired by the Pre-Raphaelites, comic books, and Ghibli movies, and she likes to work with both, traditional and digital techniques. You can follow her work here. Her Global Feminist Pitch graphic novel will focus on how the withdrawal from the Istanbul Convention has been felt by victims of gender-based violence in Türkiye.
---
Sonaksha, India
Sonaksha describe themselves as a fat, queer, chronically ill and disabled illustrator, graphic recorder, and book designer. Through their queer feminist artistic practice, they examine gender, sexuality, community, care, and body image; and address disability justice, mental health, and intersectional feminism. They use art, graphic recording, illustration, animation, and zine making as tools to contribute to, and participate in social and climate justice movements across the world. Sonaksha has worked with various organizations to visually highlight and archive the work of activists and human rights defenders, including FRIDA - The Young Feminist Fund, Association for Progressive Communications, CREA, Women's Fund Asia, Oxfam, RESURJ, and Urgent Action Sister Funds among others. They have also worked with companies like Adobe, Twitter, and Instagram to bring their visual language of care-filled justice to these spaces. Their work has appeared and been featured in several publications including: BuzzFeed, Al Jazeera, Bustle, The Hindu, and The Nib. For the Global Feminist Pitch, Sonaksha will create a graphic novel about Nidhi Goyal and the disability justice movement in India.